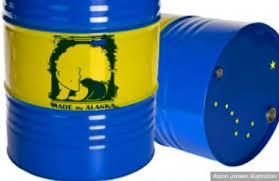 Cross Posted from Reuters 
A ruptured hose at an Alaska well on Tuesday sprayed about two-thirds of an acre of snow-covered tundra and forced Spanish oil firm Repsol to halt exploration tests briefly at the North Slope prospect, state environmental officials said.
The early morning spill, of about 6,600 gallons of crude oil, produced-water and other fluids, occurred during a flow-back test at the exploration well, one of three Repsol drilled this winter on the North Slope, the Alaska Department of Environmental Conservation said.
Cleanup workers were dispatched, and Repsol is working on replacement and repairs necessary to resume operations, said Tom DeRuyter, the department's on-scene response coordinator. "They right now are putting together a restart plan," DeRuyter said.
The spill is expected to be cleaned up by Wednesday and will not significantly slow Repsol's exploration program, said Jan Sieving, the company's vice president for public affairs.
Drilling at Repsol's three 2013 wells, all in the Colville River Delta area of the western North Slope, is complete or nearly complete, and the company had been in the testing and completion phases at two of the wells, Sieving said.
Repsol experienced a more serious problem last winter, when an exploration well at the same Colville River Delta prospect had a blowout caused by a natural gas release. The blowout spewed 42,000 gallons of drilling mud, according to state officials. Repsol wound up drilling only two wells last winter, instead of the five that had been planned.
Repsol has ambitious plans for the North Slope. Once pending lease transactions are done, the company will hold exploration rights to more than 500,000 acres in Alaska, Sieving said.
Though Repsol holds leases in the Beaufort and Chukchi seas, offshore exploration plans have not yet been made, she added.
(Editing by Braden Reddall and Joseph Radford)