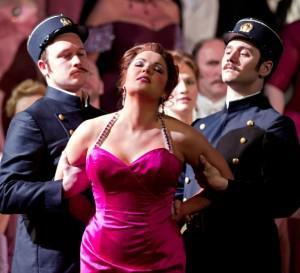 Anna Netrebko in Manon / photo by Bill Cooper/Covent Garden
Thanks to an awesome site maintained by Opera Glass, there's a compendium of fan pages for many of the world's best loved opera singers, past and present.
(Yes, and before you get on my case for using "who do you love" in the title, I'm patently aware that it should be "whom do you love?"–I taught English for ten years. Merely trying to tap into a titular Bo Diddley vibe.)
Anyhoo, I love the Opera Glass page of fan pages! It's given me insights to opera singers I'd never heard of. And I'm having a ball exploring different artists and their pages. And learning a lot in the process.
The following list gives links to fan pages providing information about famous opera people, mostly singers. For a list of Web pages provided by opera people themselves, see Opera People. (That's also a fun list!)
Roberto Alagna, tenor: uno – due
Maurizio Alessandrini, tenor
Belén Amparán, mezzo-soprano
Mario Ancona (1860 – 1931), baritone
June Anderson, Soprano
Marian Anderson (1897 – 1993), contralto
Anna Caterina Antonacci, soprano
Francisco Araiza, tenor: uno – due
Constantina Araújo (1922-1966), soprano: uno – due
Fides Asensio, soprano
Agnes Ayres, soprano
Renata Babak, mezzo-soprano
Vicent Ballester (1887 – 1927), baritone
Agnes Baltsa, mezzo soprano: uno – due
Cecilia Bartoli, mezzo-soprano
Ettore Bastianini, baritone
Kathleen Battle, soprano
Hildegard Behrens, soprano
Paavo Berglund, conductor
Jussi Björling (1907 – 1960), tenor: uno – due – tre
Rockwell Blake, tenor
Alessandro Bonci (1870 – 1940), tenor
Lucrezia Bori (1887 – 1960), soprano
June Bronhill, coloratura soprano
Stuart Burrows, tenor
Enrico Caruso (1873 – 1921), tenor: uno – due
Kathleen Cassello, soprano
Anita Cerquetti, soprano: uno – due
Feodor Chaliapin (1873 – 1938), bass
Aris Christofellis, sopranist
Alfredo Colosimo, tenor
Franco Corelli, tenor: uno – due
Ileana Cotrubas, soprano
José Cura, tenor
Francesco Daddi (1864 – 1945), tenor
Tracy Dahl, coloratura soprano
José van Dam, bass-baritone
Giuseppe De Luca (1876 – 1950), baritone
Mario Del Monaco (1915 – 1982), tenor
Mariella Devia, soprano
Justino Diaz, bass-baritone
Giuseppe Di Stefano , tenor
Plácido Domingo, tenor, conductor: uno – due
Jane Eaglen, soprano
Kallen Esperian, soprano
Geraldine Farrar (1882 – 1967), soprano
Adam Fischer, conductor
Juan Diego Flórez, tenor: uno – due
Mirella Freni, soprano
Barbara Frittoli, soprano
Elizabeth Futral, soprano
Lesley Garrett, soprano
Nicolai Gedda, tenor: uno – due – tre
Leyla Gencer, soprano: uno – due
Angela Gheorghiu, soprano
Beniamino Gigli (1890 – 1957), tenor: uno – due
Gail Gilmore, soprano
Denyce Graves, mezzo-soprano
Monica Groop, mezzo-soprano
Edita Gruberova, coloratura soprano: uno – due
Jerry Hadley, tenor
Catherine Hayes (1825 – 1861), soprano
Hartmut Haenchen, conductor
Friedrich Haider, conductor
Barbara Hendricks, soprano
Marilyn Horne, mezzo-soprano
J. A. Huddleston (1799 – 1865), guitarist and arranger
Louise Homer (1871 – 1947), contralto
Marilyn Horne, mezzo-soprano
Dmitri Hvorostovsky, baritone
Jorma Hynninen, baritone
Mark Janicello, tenor
Dame Gwyneth Jones, soprano
Marcel Journet (1870 – 1933), bass
Ivan Kozlovsky, tenor
Charles Kullman (1903 – 1983), tenor
Mario Lanza (1921 – 1959), tenor: uno – due – tre
Jennifer Larmore, mezzo-soprano
Cynthia Lawrence, soprano
Frida Leider (1888 – 1975), soprano
Lotte Lehmann (1888 – 1976), soprano
Pavel Lisitsian, baritone
Giuseppe de Luca (1876 – 1950), baritone
Christa Ludwig, mezzo-soprano: uno – due
Catherine Malfitano, soprano
Janis Martin, dramatic soprano
Giovanni Martinelli (1885 – 1969), tenor
Karita Mattila, soprano: uno – due
Dorothy Maynor (1910 – 1996), soprano
John McCormack (1884 – 1943), tenor: uno – due
Lois McDonall, soprano
Sylvia McNair, soprano
Nellie Melba (1861 – 1931), soprano
Lauritz Melchior, heldentenor
Robert Merrill, baritone
Chris Merritt, tenor
Giacomo Meyerbeer (1791 – 1864), composer
Zinka Milanov (1906 – 1989), soprano
Aprile Millo, soprano
Sherrill Milnes, baritone
Anna Moffo, soprano
Kurt Moll, bass
Grace Moore, soprano
Adelaide Negri, dramatic coloratura soprano
Anna Netrebko, soprano
Birgit Nilsson, soprano
Lillian Nordica (1857 – 1914), soprano
Jessye Norman, soprano
Nadezhda Obukhova, mezzo-soprano, contralto
Kevin Oldham, composer
Magda Olivero, soprano: uno – due
John O'Sullivan (1877 – 1905), tenor
Mark Padmore, haute-contre
Lina Pagliughi (1907 – 1980), coloratura soprano
Julius Patzak (1898-1974), tenor, conductor
Valentin Peytchinov, bass
Nino Piccaluga (1890 – 1973), tenor
Pol Plançon (1851 – 1914), basso cantante
Rosa Ponselle (1897 – 1981), soprano
Frank Porretta III, tenor
Leontyne Price, soprano
Thomas Quasthoff, bass-baritone
Louis Quilico (1925 – 2000), baritone
Ruggero Raimondi, bass
Samuel Ramey, bass
György Györiványi Ráth, conductor
Mark Reizen, bass
Elizabeth Rethberg (1894 – 1976), soprano
Titta Ruffo (1877 – 1953), baritone
Leonie Rysanek (1926 – 1998), soprano
Giuseppe Sabbatini, tenor
Aulis Sallinen, composer
Matti Salminen, bass
Esa-Pekka Salonen, conductor, composer
Sylvia Sass, soprano
Tito Schipa (1889 – 1965), tenor
Josef Schmidt (1904 – 1942), tenor
Gabriele Schnaut, soprano
Rudolf Schock (1915 – 1986), tenor
Andreas Scholl, countertenor
Friedrich Schorr (1888 – 1953), baritone
Peter Schreier, tenor, conductor: uno – due
Erwin Schrott, bass
Ernestine Schumann-Heink (1861 – 1936), contralto
Antonio Scotti (1886 – 1936), baritone
Renata Scotto, soprano
Meta Seinemeyer (1895 – 1929), soprano
Marcella Sembrich (1858 – 1935), soprano: uno – due
Neil Shicoff, tenor
George Shirley, tenor
Hugh Smith, tenor
Diana Soviero, soprano
Frederica von Stade, mezzo-soprano: uno – due
Riccardo Stracciari (1875 – 1955), baritone
Teresa Stratas, soprano
Cheryl Studer, soprano
Joan Sutherland, Soprano
Peter Svensson, Heldentenor
Carlo Tagliabue (1898 – 1978), baritone
Jeffrey Tate, conductor
Richard Tauber (1891 – 1948), tenor
Kiri Te Kanawa, soprano: uno – due – tre
Renata Tebaldi, soprano: uno – due
Bryn Terfel, bass-baritone: uno – due
Luisa Tetrazzini (1871 – 1940), soprano
Georges Thill (1897 – 1984), tenor: uno – due
Tatiana Troyanos (1938 – 1993), mezzo-soprano: uno – due
Carol Vaness, soprano
Alain Vanzo, tenor
Astrid Varnay, soprano
Kyra Vayne, soprano
Franz Völker (1899-1965), tenor
Dario Volonte, tenor
Richard Wagner, composer
Anthony Warlow, baritone
Leonard Warren (1911 – 1960), baritone: uno – due
Gösta Winbergh, tenor
Chon Wolson, soprano
Fritz Wunderlich (1930 – 1966), tenor: uno – due
Dolora Zajick, mezzo-soprano
Riccardo Zandonai (1883 – 1944), composer
Virginia Zeani, soprano
Teresa Zylis-Gara, soprano