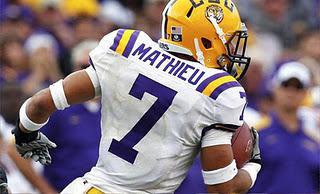 Photo: Statesman.com
There is no question which team reigns supreme in college football, as LSU steamrolled Georgia 42-10 in the SEC Championship to lock themselves into the BCS National Championship game, and advance their record to (13-0).
The Les Miles led Tigers have dominated their opponents throughout the 2011 season, winning every game but one by double digits. LSU's defense has been lock down and opportunistic, their offense has been deadly and efficient, and their special teams spectacular. Simply put, Louisiana State is the clear cut best team in the country and have earned their number one ranking in every single game.
The only team that has a chance to stop them? The Alabama Crimson Tide.
And the two teams have already played once this season, in what was dubbed the best regular season game of the last decade. LSU traveled to an electric Tuscaloosa to try and take down the red-hot Crimson Tide, in what ended as a stunning defensive battle. Alabama pushed into overtime, but LSU won with a field goal to ice the game and keep their undefeated season going.
Now, just four games after Bama's narrow loss at home, the Crimson Tide are in position to continue onto the National Championship against LSU. A game that is set to be played in the Super Dome in downtown New Orleans, Louisiana.
Quite possibly brining forward the most epic rematch in the history of college football, and a game that will set defining expectations for both programs. This Championship will be a game that can forge the legacies of both Nick Saban and Miles as head coaches, and also their schools.
Despite the location of the BCS Championship being coincidental in New Orleans, LSU will still have a strong home field advantage, and it will be like Alabama is playing on the road. The tables will have turned, and it will be the Tides' chance to hand out a defeat on LSU's home turf, in their home state.
The amount of professional talent on both LSU and Alabama is staggering, and the case could be made for nearly every single starter having a future in the NFL. Earlier this season, an opposing offensive coordinator called Bama's defense, 'NFL caliber.' Looking over the depth charts, there is not only NFL talent all over the field, but a multitude of first round selections on both teams.
With a laundry list of upperclassman going harder than ever to make a case for themselves in front of NFL scouts, in an attempt to raise their draft stock, the game will be more physical than ever. Expect both teams to be going 100% for 60 minutes, as this is the biggest stage in college football, and the best chance to be noticed.
After losing to LSU at home, Heisman candidate, and Alabama starting running back, Trent Richardson said, "
I don't feel like the game ever ended. Four more quarters."
And he will get them, as Bama will get one more shot at LSU on January 9, 2012.
For those who thought that the first matchup of these two teams was excellent, expect more of the same as two SEC powerhouses clash in an epic National Championship game.
Be sure to follow Beard and Stache on Twitter @BeardAndStache, and also Troy @TroyBallards, Like our Facebook page HERE!