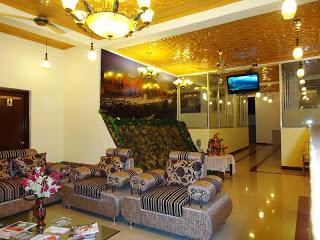 Various businessmen are investing in hospitality division to present superior services and facilities to the visitors with the tourism gaining momentum in Kashmir Valley. One such businessman is Mohammad Saleem Dar who has spreaded his first-line commerce of electronics and advanced into tourism division by setting up a mid-segment hotel Al Mehar.
High-end, mid-segment, budget, economy and guest houses have mostly come up in the environs of the key traveler magnetism Dal Lake. Many guest houses have come in Bishambar Nagar which can be reached by walking from Dal Lake and historic Lal Chowk. Though, with the establishment of Al-Mehar at Bishembar Nagar, locations like Munawarabad have got a new identity in the field of tourism.
It is a 48-room asset greets the visitor with a well ornamented and pleasingly constructed lobby. This centrally located hotel also has four suites with comfy Dewan settee, refrigerator and other up to date amenities
. This hotel has come up in the heartily location of historic Srinagar as one can have an astonishing look at the old city from the terrace which has a fountain in it.  
Idyllic position:
Positioned in the heart of the capital city Srinagar with just two minutes walk to the legendary Dal Lake. It is near to all prime magnetisms including popular Nishat, Shalimar, Cheshma Shahi, Shankaracharya temple and famed Mughal gardens. It is close to Tourist Reception Center, Sangarmal Shopping Complex and Srinagar Airport which is just 10 km away.
Amenities:
Satellite T.V, 24 hours running hot/cold water, 24-hours room services, fast laundry services, telephone/ intercom with STD and ISD facility, Wi-Fi facility, rental cars, air ticketing, doctors on call, ladies parlour at door step and above all major cards are accepted.
Exotic Dishes:
Guests can order for all varieties of mouth watering culinary delights including; Continental, Chinese, India, Mughlai, fast food, vegetarian dishes and local Wazaan cooked by local chefs; in the spacious restaurant of the hotel.
Arts & Crafts of Hotel:
Local art and craft greets the visitors as they go through lobby. 'Samovars' (conventional copper kettle for serving salt tea), Izband Soz (conventional incense burner) and varied articles for the domestic in front of the stone wall waterfall, the popular art of Khatamband crafted to ceilings gives a first home feeling to visitors. The right side of the lobby houses a display area for Kashmir's conventional art and craft where guests can buy authentic handicrafts. Professional staff will receive you with lovely smile. Services of the chefs from outer the state have been appointed to furnish to the diverse flavor buds and travelers from around the country and overseas, as all the staffs in the hotel are local.
Lift Facility:
The lift facility would take you to the terrace where Koh-i-maran fort constructed in 1808 by Shuja Shah Durani (Afghan ruler), will grab you for a moment. This significant monument is lighted up in the evening making it perfect to see.  You can have a mesmerizing view of Shankaracharya Temple, Zabarwan hills and the grandiose Chinars of freshly developed Chinar Bagh on the right side of the terrace.
Mohammad Saleem Dar, owner of the hotel said, "To exhibit Kashmiri art and craft we have tried to give a local touch to the hotel interiors to endorse local crafts". The top floor of the hotel has been dedicated for exhibiting local arts and crafts. President Travel Agents Association of Kashmir Rauf Ahmad Tramboo has applauded the property owner and said that such types of hotels are required in the city for the tourists in the peak season.