Report from the inaugural Airbnb Africa Travel Summit Cape Town, 11-13 September 2018
Guest post by Solomon Oleny
In partnership with South African Tourism, Airbnb has flagged off the first edition of its Africa Travel Summit in Cape Town. The development is fueled by Airbnb's pursuit to spread benefits of tourism to many across Africa, starting with Africa's trend-setter in the travel industry, South Africa. The three-day event which climaxed today (Thursday September 13th 2018) brought together over 200 innovators and leaders in tourism and tech to share, discuss and debate the role of technology and tourism in driving inclusive growth on the African continent.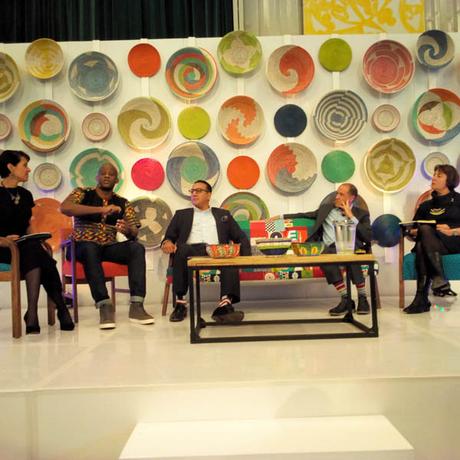 Panelists in a middle of a discussion at Africa Travel Summit. From left to right, Anita Mendiratta, Jerry Mabena, Najib Balala, Chris Lehane and and Sabine Lehmann. Cape Town, South Africa
Background
According to World Tourism Organization, Africa attracts roughly 63M tourists annually. While that sounds like a tremendous achievement, it is far from it, considering that the continent is made up of over 50 countries, most of which are immensely endowed with priceless attractions. Collectively combined, they have the ability to do much better. That aside, 63M is just a drop in the ocean given that over one billion tourists travel every year.
This drives the question, why does such a diverse tourist destination attract such a low traffic? To be exact, a destination with approximately 3,000 tribes, most of which have very captivating and distinctive ways of life. A peaceful destination with an endless list of world wonders such as the world's longest river (River Nile). An awe-inspiring destination with over 80 multi-award-winning national parks and the cradle of mankind.
According to Najib Balala, Kenya Cabinet Secretary for Tourism, one of the biggest frustrations to growth of tourism in Africa is that its countries view each other as competitors. They thus waste a lot of resources and time trying to outdo each other forgetting that there is strength in unity. This partly explains why the pursuit for open skies policies hasn't been achieved in over five decades.
"That aside, accessibility of the respective countries is so hard for both in-bound and out-bound tourists due to strict policies that deny African travelers visas to explore the continent freely," says Larry Madowo, BBC Africa Business Editor
To this effect, Balala urges African countries to walk in the footsteps of Kenya, a destination that offers tourists the flexibility of getting visas upon arrival at the airport or Kenya's other entry points like borders.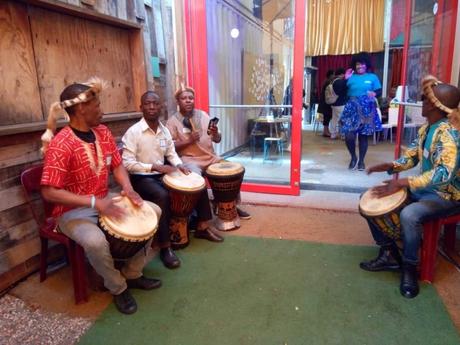 Drummers entertain attendees of the Airbnb Africa Travel Summit 2018
For things to be much more effective, Sebastien Molineus, Director of World Bank recommends the establishment and promotion of more affordable means of transportation connecting the different travel destinations. His advice comes at a time when it is so expensive to fly from different tourism hubs by air. For instance, it costs more than $500 to travel from Nairobi to Cape Town.
Moving forward, Airbnb is looking forward to turning things around for the continent. According to Chris Lehane, Airbnb Global Head of Public Policy and Public Affairs, among the things that make Airbnb a game changer is that it directly empowers people at the grass roots. Independent analysis by Genesis Analytics shows that the ripple effect of host and guest activity on Airbnb in South Africa resulted in an economic impact of $678M last year, supporting over 22,000 jobs.
Don Pinnock, is a Cape Town based senior travel writer whose property gets bookings on of Airbnb's platform. In agreement with Chris, he observes that Airbnb's model of operation ensures that locals keep 97% of revenue generated from client bookings/visits of their hospitality facilities. The average earning for someone who someone who hosts experiences in South Africa six times per month is $14,000 annually.
While welcoming this development, Anita Mendiratta and Mich Atagana further called on Airbnb to offer trainings to targeted beneficiaries so as to enable them get the most of the life changing opportunities that Airbnb presents. While Anita is Special Advisor to the Secretary General of United Nations World Tourism Organization, Atagana is Head of Communication at Google.
On his part, Sisa Ntshona CEO of South Africa Tourism says he is optimistic about Airbnb considering that it provides a variety of options for the domestic and international traveler, compared to traditional hospitality options like hotels.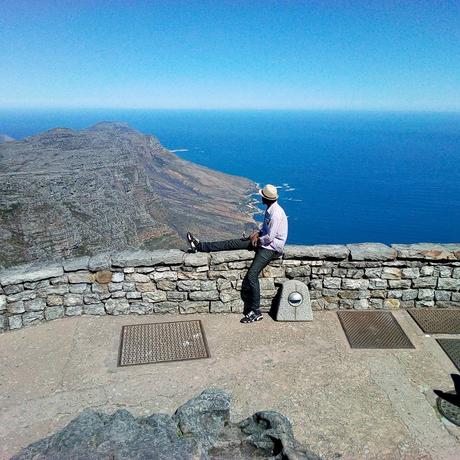 Ugandan travel writer Solomon Oleny, Table Mountain, Cape Town. Solomon visited Cape Town to report on the inaugural Airbnb Africa Travel Summit
About the writer:
"If a roaring lion, restless chimpanzee and hissing snake gives you goose bumps yet excites you equally, Solomon Oleny is delighted to be aboard the same flight with you. He is a creative self-driven professional Travel and Conservation Journalist who looks forward to meeting you someday for a healthy exchange of ideas about conservation and life in general."
#AfricaTravelSummit
Do you have a story you'd like to share? Please read my Guests Posts page for guidelines on the kinds of stories I feature on Diary of a Muzungu.
« "I saw things" Nyege Nyege Festival