AirAsia Philippines, a promising new carrier with a first hub in Clark, teamed up with bus company Victory Liner to provide free two-way shuttle bus connections from Marquee Mall in San Fernando and Dau Bus Terminal in Mabalacat to Clark International Airport. Read more…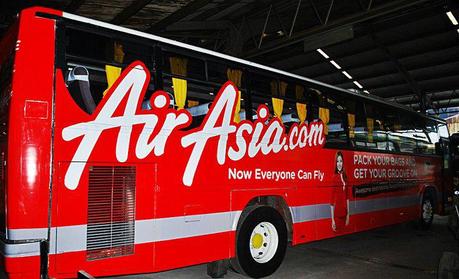 The free shuttle bus that connects Marquee Mall and Dau Bus Terminal with Clark International Airport will run in sync with the current international and domestic flights of AirAsia. The service is available for all passengers and guests of AirAsia.
While AirAsia Philippines assures that passengers will be taken to the airport in time for their flight, the free shuttle bus does not have a specific time due to unpredictable traffic. Hence, passengers are advised to allow ample time to wait and be taken to the airport. Meanwhile, passengers arriving at Clark will have the free shuttle bus waiting for them as they deplane.
The Dau Bus Terminal in Mabalacat and Marquee Mall in San Fernando are easily accessible from Manila, as several buses service these areas. The free shuttle bus rides are a joint effort between AirAsia Philippines and Victory Liner with the aim to deliver innovation and convenience to the traveling public.
EXPRESS CONNECTIONS BETWEEN MANILA AND CLARK INTERNATIONAL AIRPORT
AirAsia Philippines also partnered up with Philtranco to provide express bus services between Metro Manila and Clark International Airport for 350 PHP. The schedules are timed to be in sync with AirAsia's domestic and international flights. Refer below for the timetable.
Pasay Terminal to Clark 06:30 AM | 08:30 AM | 11:30 AM | 02:30 PM | 05:00 PM
SM Megamall to Clark 07:00 AM | 09:00 AM | 12:00 PM | 03:00 PM | 05:30 PM
Clark to Pasay and SM Megamall 10:15 AM | 11:30 AM | 04:30 PM | 06:00 PM | 10:30 PM
For flights leaving at 07:00 AM, there is a bus service departing from the Pasay Terminal at 04:00 AM and SM Megamall at 04:30 AM. Reservations are required for this specific service.
EXPRESS CONNECTIONS BETWEEN KALIBO AIRPORT AND CATICLAN JETTY PORT
In Kalibo, AirAsia Philippines teamed up with Southwest Tours Boracay in providing an express bus service between Kalibo International Airport and Caticlan Jetty Port for Boracay.
For passengers arriving in Kalibo, there is a bus waiting for them outside the terminal building. On the other hand, passengers need prior reservations for the bus departing at 05:30 AM from Caticlan, while a scheduled bus leaves at 12:00 PM.