Last week, when cooking for one, I fancied something tasty, quick and relatively cheap.
I'd cooked Ainsley Harriott's "Maddie Haddock" recipe before some time ago, and remembered that it was easy, used store cupboard/fridge ingredients and was quick and tasty.
It comes from Ainsley's book All New Meals in Minutes which I've had on the shelf for a while. The recipe is called "Maddie Haddock" after his daughter as apparently it is one of her favourites.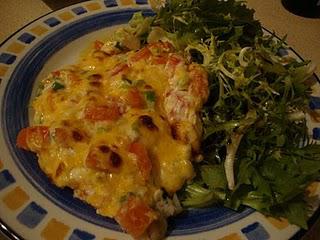 I called in at Morrisons to buy some fish, and after watching and reading about The Big Fish Fight I was determined to use some white fish that wasn't cod or haddock. It seems that since Fish Fight Morrisons Fish counter has expanded and is now full of all sorts of different fish. I bought some Pouting fillets, which the fish monger skinned for me, for the grand total of 54p. Bargain. The fillets were quite small so I bought a couple.
I didn't follow the recipe from the book exactly, but modified the amounts, and obviously used gluten-free flour. I actually think I went overboard with the topping ingredients as there seemed to be loads of it. I've copied out the recipe below (with a simplified method), so you can see how it supposed to be done.
 
What you will need (from Ainsley Harriott's All New Meals in Minutes):
2 ripe tomatoes
150g mature Cheddar
2 salad onions, trimmed and finely chopped
4 tbsp mayonnaise
2 tbsp plain flour (we use gluten-free)
4 x 150g haddock fillets, skinned and boned
1 tbsp sunflower oil
a knob of unsalted butter
salt and pepper
(Serves 4)
Method:
1. Dice the tomatoes, removing the seeds. Chop the spring onions and grate the cheese. Mix all this with the mayo and season.
2. Preheat the grill to high. Dust the fish with seasoned flour and fry in a little butter and oil for around 2 minutes on both sides (until almost cooked).
3. Transfer the fish to a gratin dish and spread with the mayonnaise mixture.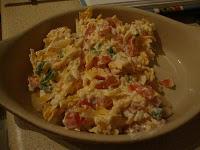 4. Grill for 2-3 minutes until the cheese is golden and bubbling.
This is a lovely recipe, and with fish other than cod or haddock, is very cheap to make. It uses ingredients that most people are likely to have in already, and perhaps with more care than I took (since it was just me), it could be quite an impressive main course for a dinner party. I served it with a balsamic dressed salad.