On Monday night I was back in NYC and met up with an old college friend on the Upper West Side.  We were just meeting for drinks but as I'd been struck power-less by Hurricane Irene (and therefore also water-less since we have a well system), I wanted a bite to eat that actually required refrigeration!
We wound up at (aged.) - no that's not a typo, that's how they write it.  I'd heard about it but never been, but once we glanced at the menu, I knew it was worth a try.  I can't really speak to the interior design as we chose a table outside, but it seemed nice enough, and for US Open fans, they had a nice screen on which to watch if you couldn't be courtside.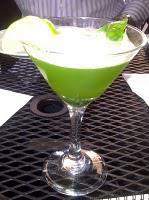 Even the garnish was pretty!
I was toying with whether to get a cocktail or a glass of wine when I came across a drink I had to try.  It was called Shiksa (an offensive, in my opinion, word for a non-Jewish woman) but the ingredients were tequila, a bit of basil puree and both lime and grapefruit juice so I was too tempted not to give it a try.  I was both intrigued and a little skeptical about the basil, but it was delicious!
As for something to eat, they had a wonderful sounding roasted vegetable platter with broccolini and lemon potatoes, a number of salads I could modify, and some vegetarian "sides", but I loved my choice ~ shredded savoy cabbage and brussel sprouts with avocado.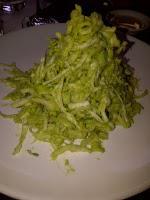 As you can see from the photo, it's pretty green (I guess both were actually) and it had a rich, decadent texture.  I did have a bit of their bread, dipped in a touch of olive oil to accompany the salad, but it was rather filling and so tasty ~ I didn't even have to salt it, which I find too often necessary with certain vegan dishes.  (Or it's the opposite and I'm downing water by the gallon!)
If you find yourself on Broadway and 88th, check it out!  Where do you like to eat on Manhattan's Upper West Side?