This is a sweet and delicate Oatmeal Bread topped with rolled oats and naturally sweetened with agave.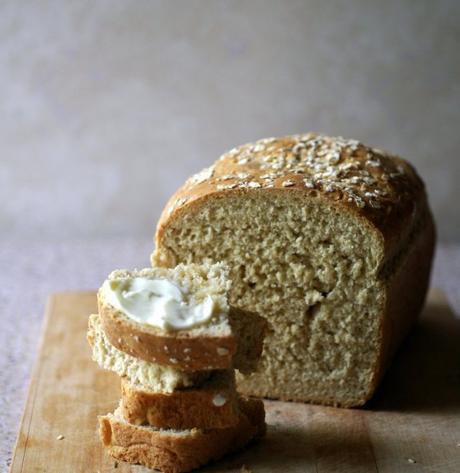 I have had sourdough in my fridge for almost a year now. I would like to thank Mary for giving me the recipe for it . I keep it in the fridge and take it out every couple of weeks and make a bread. I add some more flour and water and then I put it back in the fridge. It is a great relationship the two of us have no fuss no muss.
This months #breadbakers is all about oatmeal. #BreadBakers is a group of bread loving bakers who get together once a month to bake bread with a common ingredient or theme.  Follow our Pinterest board right here. Links are also updated each month on this home page.
We take turns hosting each month and choosing the theme/ingredient.  Ricio, who blogs over at Kids and Chic  is the host this month. A special thanks to her and all the hard work she put in to make this possible.
If you are a food blogger and would like to join us, just send Stacy an email with your blog URL to [email protected].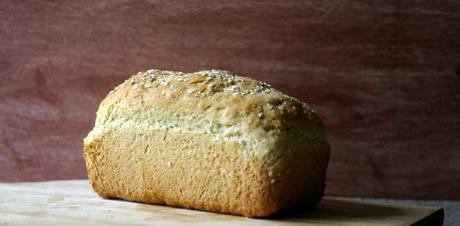 Print Recipe
Agave Oatmeal Sour Dough Bread
Ingredients:
1/2 cups sour dough starter see link above
1 cup warm milk
2 tablespoons melted butter cooled slightly
1 medium egg beaten
3 tablespoons agave
1 tablespoon salt
1 1/2 cups rolled oats
3 cups all purpose
Directions:
Combine starter, milk, butter egg and agave in your stand mixer using the paddle attachment. Let set in mixer while you measure and combine in another bowl the salt, oats and flour. Add your dry ingredients to your wet until dough comes together. Cover bowl with plastic wrap and allow to rise in mixer bowl for 2 hours. Punch down and put back on stand this time incert the dough hook and kneed until no longer sticky adding more flour if needed about 5 minutes. Divide dough into two equal pieces and put in prepared bread pans. Allow bread to rise again about 2 hours.
Bake bread in a 375 degree oven for about 45 minutes.
Allow to rest about 15 minutes before slicing.
Oatmeal Bread themed #BreadBakers:
Peace be with you,
Veronica