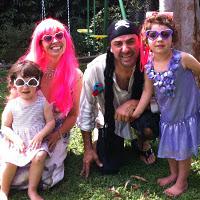 It's no secret that Mimi turned 4 on the weekend; I've been blogging my progress for a while now, and still have plenty more how-to blogs to come detailing things you can make.
Here's the short story
; Mimi and Lotti were overly excited so slept badly the night before, and were then up at the crack of dawn and ready to get going.  Mimi was convinced she heard the Fun Fairy up in the loft the night before so we let her climb the ladder for a look, and sure enough, to both girl's great amazement (Lotti had to climb up to confirm what Mimi's "nooo way!" was about) the Fun Fairy
had
left a couple of parcels; a new
beaded party dress
and a bubble machine.   Mum and Dad did the last of the housework and shop runs.  My parents arrived for lunch, and to help distract the children while we laid the food out on the Pirate-Mermaid buffet table.  We dressed up as a mermaid Mummy and daughter and a Pirate Dad and daughter (note Happy Husband even wore the partycraftsecrets
Pirate Parot Pete
!).  No sooner had the fun family photo been snapped than the guests started rolling in...
Highlights included;
Mimi's face when the first big bubbles started pumping out of the bubble machine.
Lotti's face when Mummy appeared in a candy-pink wig.
the oh's and ah's from everyone when Mimi's photo cake was unveiled.
the pirate hats and Captain funny hook-hands running everywhere and ah-har-ing.
the all in tug-a-war (it's debatable whether my prediction on who would win the pirate game was right because the mermaids dropped the rope which set the pirates on their bottoms!)
fancy fish and chips were a big hit with the kids, and sushi platters were all cleaned off by the parents.
watching the kids make lots of variations of the Happy Oyster and Mermaid lei's was very rewarding.
the happy faces on all the children when they left with their aquarium keepsakes (I'll put a how-to blog up shortly.)
Thanks to all my family and friends who came to help celebrate our 'big girl' growing up.  And thanks to all of you for still reading!
Off to clean up... I'll post photographs progressively on the Gallery section of this blog.