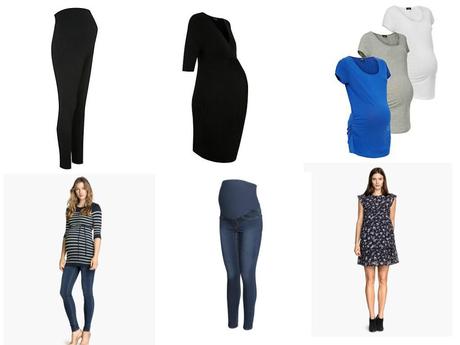 For me when it comes to clothes I am pretty basic, I like something that flatters my shape, size and most importantly I feel comfortable in it.
I didn't want to go out and buy loads of maternity wear whilst being pregnant as I am hoping not to be in them too long after baby is here. Obviously I need to buy some items because about 90% of my wardrobe doesn't fit now.
I decided I would just grab a few basic items that I can wear on rotation with the items that still fit me from my wardrobe. Plus I have got myself a dress that works well for dinners out and when I need to look more smart.
There has been two shops that have met my needs on maternity clothes and are both reasonably priced.
My favorite place has to be H&M as its the only shop locally that sells lovely maternity clothes without the huge price point. I have been lucky and picked up a few bits in the sale too, I have managed to get t-shirts for as little as £5.
The other place I have headed for is New Look. Long time readers might be aware that this is one of my favorite places to shop and I can say the maternity range is just as good as their main clothes. Again you get good quality clothes which is affordable.
The one thing I have struggled to buy is maternity bras, the only place I have bought from is Bravissimo. Being a larger boobed lady it is a struggle finding bras normally so finding a good fitting and supporting maternity bra has been a pain. If anyone has any suggestions on places to shop, do let me know, I plan to breast feed so want to get a few good fitting bras.
Where have you found the best place to shop for maternity clothes has been?