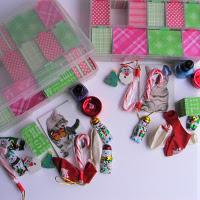 It's no secret that I made a
Mini Travel Advent Calendar
for my daughters, by placing cardboard inserts into a plastic storage compartments.  Well, we've been diligently opening the boxes over the last few days and like millions of children around the world we're getting super-excited that Christmas is ever-closer.
Mimi, aged four, seems to "get it" while Lotti, 2, is learning fast (although we gave up putting presents for other people under the tree because she keeps opening them!)  Taking turns from one day to the next at picking which coloured box to open from the advent calendar has been both a challenge and a lesson worth learning, as has the idea that some gifts are edible and some are not.  The first box they opened was a chocolate Santa.  Day two was Santa-themed balloon.  Day Three had a Christmas tree bauble.  Needless to say that the great revelry that accompanied the box from day one was diminishing quickly.  Thank goodness that day Four revealled a tiny bottle of nail polish!
One down-side of the design I made, is that as the boxes are withdrawn and set aside (I love the vacant holes as it places emphasis on what's left to choose from and therefore 'how many days to go'), is that if you wanted to you can easily see into the sides of the adjoining boxes.  Mimi quickly realised that as the box empties she could scan for choices.  Now I hold the boxes far enough away and they have to look at them front-on so no cheating.
Regardless of whether the box has been a craft-success, it has been invaluable tool to teach the girls about the story of Christmas, patience, sharing and gratitude.  Four sleeps to go...