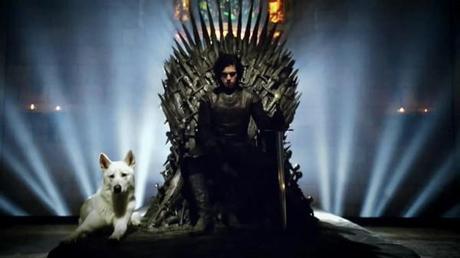 HBO had special screenings of Game of Thrones Season 2 Episode 1 in select cities tonight and lucky enough, Providence was one of them.
The show picks up right where the first season ended, so if you haven't watched season 1, get on that. All the ruling families are at war trying to capture the throne for this own. Luckily, the beginning of this episode loses the opening of book two which was a tough read to say the least. It opens on Joffrey's name day and him enjoying a battle to the death. A much more entertaining beginning to say the least.
The episode continues with a look into all the changes between the families. With Sean Bean not appearing in season 2, the new starpower seems to be coming from Peter Dinklage. His performance of Tyrion Lannister won him an Emmy and he sure looks like he's heading that way again with this strong opening episode.
The former King's brothers are amassing their own armies to take the throne. In this episode we meet Stannis Baratheon who is set on bringing his army to take King's Landing with the support of his brother or Rob Stark. Speaking of Rob Stark, he has the Jamie Lannister as his captive and whipping boy. Wait until you see how much those Direwolves have grown.
Daenerys Targaryen rules over her people after her miracle surviving fire and giving life to dragons. Ruling isn't easy when facing starvation. She sets out on trying to find some place to keep safe while her small armada grows.
The episode ends as Joffrey discovers the existence of bastards that the former king fathered. He is sending armies everywhere searching for the bastards to snuff them out. If he only knew where one of them was and who he was with.
The season 2 premier is everything we've come to expect from Game of Thrones. Betrayal, sex, violence and lies are the themes of everyday life for the people of Westeros.
Thanks to HBO for bringing out the episode to share this evening and Game of Thrones Season 2 premiers on HBO on April 1st.
Did you enjoy this article? If so, we'd love to hear your thoughts in the comments below. It would be great if you subscribed to our RSS feed or signed up for email updates to get more goodness. There's lots more where this came from!