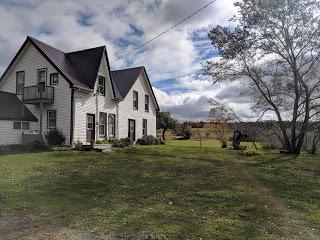 Things are going to be quite different around these parts going forward. Obsessions have adjusted and I figured it was time to update my blog to match my current mindset. While I'll not totally give up on politically driven discussions, or the entertainment ones, I'll be more inclined to blab on about the new lifestyle I'm currently living. Moving from downtown St. John's, Newfoundland, to a 4 acre hobby farm in the middle of PEI is quite the change at 40 years old, and it's one that has inspired me to return to blogging. I wanted to grow my mostly forgot blog space in the direction my lifestyle is headed. So much of my focus from here on out will be on homesteading this lovely hobby farm I'm posting from, and I find myself wanting to write about it - it can serve as a reminder to myself in later years if nothing else. There is a lot of work to do on the farm and we have big ideas, but it's only been a couple of months. Winter is here now and we've mostly just settled in. 2019 will be our first grow year, our first full year to really grasp what we're working with, and we're extremely excited to get going. Between the farming and harvesting, and all the home improvements we already have planned, we'll have a lot on our plates. We'll take it slow of course, as to not overwhelm ourselves with projects - there's only 2 of us after all - but we have so much to work with, and so many plans and desires. I can't clearly express how excited I am right now, and have been for the past few months, but I'll try to do exactly that in the many coming posts about our PEI homesteading journey.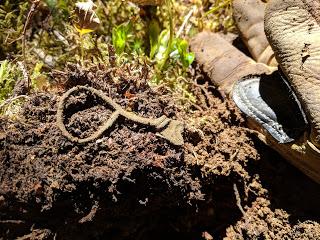 Also exciting for me, albeit on an different level, is the fact that I bought a metal detector this year. It's a piece of equipment that I've wanted for quite a large part of my life, and not because I have some delusion that I'm going to find a chest of gold. Nah, it's not that at all - well, not much. I've just always been drawn to history, and thought discovering long lost items was a great way to explore that.  Finding something old, holding it, thinking about who may have held it before, and how they lost it, is something pretty special. To me anyway. I must have dug a couple hundred holes in the last few months I had in Newfoundland, and I did find some very neat stuff, among plenty of trash. There is a lot of history in Newfoundland, and it certainly is a great place for detectorists, which I quickly discovered in my short period playing in the dirt. I don't have time to share all that now, but we'll get into it. It's a main obsession, one of the new focuses of this blog. Trust me, there's lots more to come on metal detecting.
This is all for me you know, this blog. Sometimes it's cathartic for me to write things down, and honestly, I've missed it. When not working the day job, or puttering around the homestead, I've already been writing quite a bit since moving. It's only been 2 months and there is just so much to talk about. If any readers happen to stop by the blog and enjoy it, then great - say hello! I really think I'll be here way more often now, for the rest of my life hopefully. Not that I haven't said that before. But this time feels different. And yeah, I may have said that too, but we'll see how it goes!