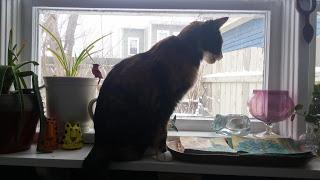 As I was gearing up to leave the province I had lived for most of my life, my cat, Scratch Patches, slowly deteriorated with age. She lived a long life, almost 14 years, but all I really wanted in those last few months was for her to make to the PEI homestead, to live her final days there in peace. She would have loved that. Sadly though, she didn't make it. Almost exactly one month before I left for my new life in PEI, Scratch passed on. It was on a Friday. I ended up taking the afternoon off work as I felt my poor darling wasn't her normal self that morning as I got ready for work. I just had a gut feeling, and unfortunately my gut wasn't wrong. When I went home I found her motionless on the living room floor. I broke down immediately upon seeing her and whimpered her name, and at that moment she gasped. She wasn't totally gone, but she was really close. I picked her up and gently placed her on one of her favorite pillows and wept while comforting her until she stopped breathing fully, not 10 minutes later. In my heart of hearts I believed she waited for me to come home, to hear my voice one last time, to say good-bye, and allow me an opportunity to do the same. I really wanted to believe that, but it didn't make anything easier - it maybe made it worse. It was an incredibly hard day for me, a hard few days, to be honest.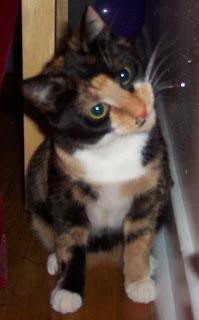 Scratch Patches was a long-time pet of mine. I adopted her from a co-worker way back in the mid 2000's - they named her Patches, while I called her Scratch; my little Scratchy Patchy - who couldn't keep the kitten due to their newborn baby being allergic to cats. I gave her a home and she has been my pet ever since. But she was more than a pet - as most pet people say - she was family. She was a best friend really, as she was a constant in my life for such a long period, through a whole bunch of changes and different living spaces. I often joked with friends that she was my longest lasting relationship. She was with me for a super long time and I cherished having her in my life. I talked to her as if she understood me, and you know what? I'm convinced she did. She talked back to me half the time, with her very vocal nature. But not just meow-y. My little Scratchy had a way of making sounds that made you think she was actually talking. Such a sweetheart she was, and I miss her more than can be fully expressed. But I had to try. I had to write something as a way for me to say good-bye to her. I loved her and she loved me unconditionally back. I could tell she did. I was her human. She was my sweet little darling.
Libby and Winston wont replace Scratch, ever. It was never our intention to find replacements for my beloved fury friend - or my partners long-time cat friend, Audrey, who I knew and loved very much also, but sadly passed on a couple years prior. We just have a lot of love to give, and want to provide good homes to new darlings, to keep building our fury family, even if some of them are now gone. I'm sure Libby and Winston are both grateful for how well Scratch - and Audrey - trained we humans. They sure do seem to love it around here. And we love having them around.
This was a difficult post to write, and in closing it will get no easier for me as I speak directly to my long-time friend, as I always used to: I wish you made it to the homestead, Scratch. I know you would have loved it. I know you had a great long life, but I know you would have been really happy here, as I am. I love you little girl, and I miss you. I'll never forget you. Thank you for being my friend.