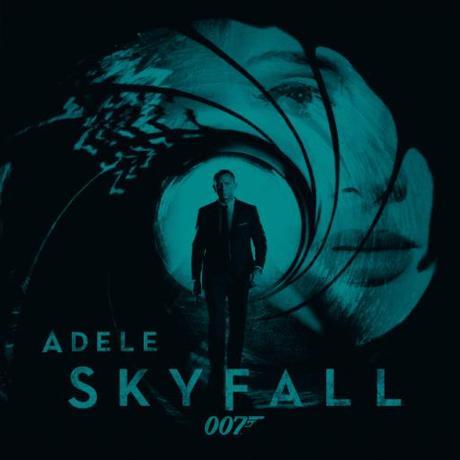 'Adele – Skyfall', the highly anticipated new Bond theme, was released at 00:07 BST, on Friday 5th October.  A very apt release date and one that also coincides with the 50th anniversary of the first Bond film 'Dr No'. After months and months of speculation, and probably the worst kept secret in music, Grammy award winning Adele, tweeted a pictured of the sheet music cover page for the 'Skyfall' theme. This was followed by a 90 second clip that was leaked online earlier in the week, all adding to the suspense of today's big release. Within hours of its official release, 'Skyfall' has already topped the iTunes charts.
'Skyfall' marks the long awaited return for Adele and what better way than to follow in the path of iconic Bond themes, such as Sir Paul McCartney's 'Live And Let Die', Dame Shirley Bassey's 'Goldfinger' and 'Diamonds Are Forever' and the most recent themes from Jack White and Alicia Keys in 'A Quantum Of Solace' and Chris Cornell in 'Casino Royale'

Image: AFP/Getty Images
Recorded at the renowned Abbey Road Studios, Adele has co-written 'Skyfall' with producer Paul Epworth (Adele – 21, Florence and The Machine). In a recent statement, Adele commented:
"I was a little hesitant at first to be involved with the theme song for 'Skyfall'. There's a lot of instant spotlight and pressure when it comes to a Bond song. But I fell in love with the script and Paul had some great ideas for the track and it ended up being a bit of a no-brainer to do it in the end."
Bond themes have a certain expectation to live up to and are usually accompanied by a full orchestra to create that classic 'Bond Feel'. The 1995 reboot of the franchise, saw David Arnold develop this theme to give it an edgier rockier impression, with artists such as U2, Garbage and Chris Cornel.  With 'Skyfall', Epworth has decided to go down the classic route, paying homage to the iconic John Barry minor chord progressions, supported by a full orchestra and sinister sultry lyrics.  'Skyfall' perfectly captures this classic approach, and is reminiscent of the silky and seductive style of 'Diamonds are Forever' and 'Goldfinger'. Its dark, it's moody, it's dangerous, and while Adele's voice is restrained throughout, it gradually builds as the 77 piece orchestra reaches it's final crescendo.
"When we recorded the strings it was one of the proudest moments of my life. I'll be backcombing my hair when I'm 60 telling people I was a Bond girl back in the day I'm sure!"
Skyfall will be released in cinema October 26th (UK) and November 9th (US)