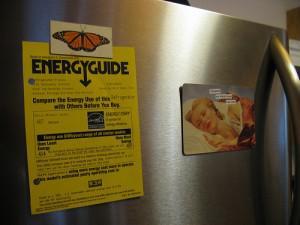 It's easy to be overwhelmed by the topic of going green. However, instead of trying to do it all at once, resolve to make a single change or adopt a new eco-friendly habit each week. You will be surprised at where you are a month from now.
Here are some tips and facts to get you started. Make a list and try to incorporate one new change each week.
Switch your desktop computer for a laptop or notebook. Desktop computers use four times the power as laptops and notebooks.
Shut down your computer each night. This can save you nearly $100 per year. Computers should be completely shut down when the anticipated delay in usage is expected to surpass two hours.
Consider making your home shoe-free, as many contaminants enter on the bottoms of our shoes. A storage area for shoes at the entrance of the home is a great idea.
Don't use the traditional electric oven. Generating the electricity for an hour of cooking in a traditional electric oven generates 2.7 pounds worth of carbon dioxide. Here is what you can do for less: A toaster oven generates 1.3 pounds for 50 minutes. A slow cooker generates under one pound for seven hours. A microwave is only a half pound for 15 minutes.
Check the tire pressure of your car. Gas mileage takes a hit when your tires are not properly inflated. Determine the correct pressure for your car's tires and check them at least once a week.
Turn off your car. If sitting in traffic without moving for at least 30 seconds, turn your engine off. Allowing your vehicle to idle burns more fuel than restarting it. As an added benefit, an engine that is shut off isn't polluting our environment.
Wrap your water heater with thermal insulation. This will lessen the CO2 in our atmosphere by 1,000 pounds per year.
Wash clothing in cold water. It reduces the energy used by 80 percent or more.
Consider a light spray of vinegar as an air freshener. Typical commercial fresheners contain chemicals that may be harmful to small children.
Use a cup of vinegar for cleaning your washing machine. Just run a regular cycle with the vinegar but without clothing.
Use environmentally-friendly paints for outdoor projects, such as painting your shed or garage door.
Choose energy-efficient appliances, always. Combination freezer/refrigerator units make up 17% of your home's energy usage.
Use a thermometer to set your refrigerator and freezer to the optimum temperature: 37 degrees for the refrigerator and 3 degrees for the freezer.
Install a Programmable thermostat. Programmable thermostats can save you $150 per year, when used correctly.
Use insulation tubes to prevent pipes from freezing. When installed correctly, they will hold the heat in the pipe for an hour or more, thus saving the need to run the water to reheat it next time.
Avoid toxic cleaners whenever possible. Oftentimes, a moistened rag gets the job done just fine.
What other green-living tips do you have? Join in the discussion in the comments below and/or share the piece.
Photo credit: 


 Some rights reserved by Shira Golding