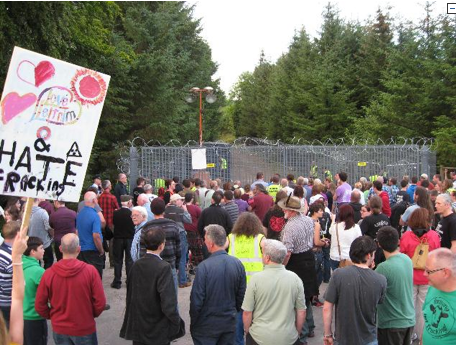 by Damian McCarney / AngloCelt
"It has happened," says Blacklion GP Dr Carroll O'Dolan explaining the large turnout at a hastily convened anti-fracking protest on Monday evening. "And it is not something that might happen in Lancashire or might happen on video footage from Queensland or Alberta or Pennsylvannia – it's happening in their own little townland, in their own village, in their own community. It is a physical reality of what we've been saying will come. Now people are saying, 'My God it has come, and it will spread out'."
As dawn broke on Monday, hydraulic fracturing company Tamboran Resources had moved a drilling rig into the 'Acheson and Glover' quarry, on the outskirts of Belcoo. The company – who did not have anyone available for interview when requested by The Anglo-Celt - hand-delivered a letter notifying residents living along the meandering country lane, that they were preparing to drill a 750-metre borehole to collect rock samples. This drilling was always on the cards, as it is a requirement of the five-year Petroleum Licence the company was granted to explore for gas in County Fermanagh back in 2011 by the Department of Enterprise, Trade and Investment. Their timeline should see the work commence in late August and completed by September 30.
Analysis of the core, in Tamboran's words "will enable the company to determine if it will be possible to extract the gas at a much later date, subject to full planning approval". It is thus expected to form a key component of the company's search for the huge investment to fund a future hydraulic fracturing project.
Dr O'Dolan, the health spokesman for Fermanagh Fracking Awareness Network (FFAN), was among the hundreds of protesters who gathered on Monday evening at the quiet country lane leading up to the quarry's heavily fortified entrance, manned by private security personnel with large guard dogs.
He called on Fermanagh District Council and the Stormont Government to carry out "independent verification" of the core sample, "because they [Tamboran] will put a huge positive spin on for investment".
Asked if independent verification wasn't a risky strategy from the anti-fracking point of view, given it may reveal that the fracking site would be profitable, he replied: "We know that's what they are going to say anyhow, so at the very worse they [the company and an independent report] agree. Even if it is profitable, it is only profitable for that company.
In Texas last year, the Texas government paid out €4 billion in repairing roads to fracking damage from fracking lorries and fracking equipment. The royalties they got in was €3 billion – so the Texas government didn't even break even on fixing roads from the royalties that they get from these companies."
He added that the choice of drill site, so close to the Cavan Border, was "no mistake".
"The Dublin Government will view anything taken from so close to the Border as having a very similar reflection of what's south of the Border geologically. That's why they are drilling here as opposed to where they felt sweetest of the sweet spots was, in Knockmore, which is about 15km from here."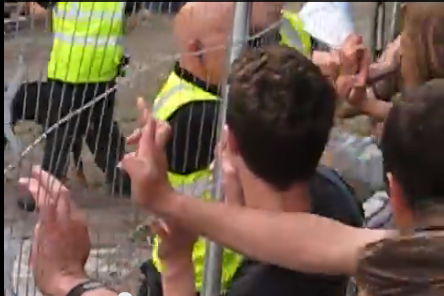 'It's one or the other'
Pointing from the drilling site across a beautiful valley and Upper Lough Erne, beef and sheep farmer John Sheridan picks out his home under the majestic cliff face known as the Hanging Rock.
"It's not just about Belcoo," insisted John, "it's about the island of Ireland – and it cannot afford to frack."
Given his opposition to fracking, the Celt asked if his heart sank upon hearing that the drilling rig was on location that morning.
"No my heart sank three or four years ago when I first heard that they were coming in. I said it couldn't work with agriculture, it's one or the other. Ireland is one of the most pristine and environmentally exclusive places in the world, so much so that it is trusted all over the world and the Chinese are coming in because they trust it enough to buy their dairy products."
Tom White who lives in Belcoo but is a member of the Love Leitrim group due to his roots, insisted: "The community don't want this. And what is also very clear is that the community has not been consulted in any way.
"All you have to do is read what Tamboran has to say about this, they openly admit that this is the first stage of shale gas exploration in Ireland, so this is the first stage and it's going through without any consultation and we were promised, best regulations, best consultation, community orientated company – look it's an absolute mess."
Confident
Local SDLP councillor Brendan Gallagher was confident that when push comes to shove his party colleague Minister Mark Durkan will veto Tamboran's fracking plans.
"Ultimately, the decision comes down to our minister. Our minister has said on numerous occasions that it won't go ahead until it's proven to be safe. And I think there is enough evidence out there that it can't be done safely."
He explained that if it gets to the stage where the company apply for full planning permission to frack, it will be subject to an environmental impact assessment (EIA), which he expects will show that "fracking cannot be conducted safely". When the Celt pointed out that the same EIA would have been required, and obtained by companies fracking in Blackpool, England, Cllr Gallagher replied: "I think there's enough evidence at hand for the Department of Environment to make that call, to not give fracking the go-ahead, but hopefully it never gets to that stage."
After speeches from FFAN members and local politicians, about a dozen protesters edged into the space between the security fence and evergreen trees. Rattling and kicking the wire fence, they momentarily managed to breach the cordon.
<
A chorus of, "Go home, go home!" was hollered by some women at the security staff whose dogs were by this stage straining at the leash.
Another roared: "Are yous making your mothers proud? Go home to f*ck!"
Determined to keep a discrete presence, a handful of PSNI officers stood back while the fence was restored by the burly security staff in a matter of seconds.
None of those the Celt spoke to were involved in the commotion.
TAMBORAN'S VIEW: 'This is fact-finding, not fracking'
Tamboran Resources did not have a spokesperson available to speak to The Anglo-Celt, however in a press release Dr Tony Bazley, Director of Tamboran Resources (UK) Ltd stressed that:
"Tamboran's intention at this stage is only to verify that the elements necessary for natural gas and its recovery are contained within the shale in County Fermanagh. This is fact-finding, not fracking. If County Fermanagh is home to a significant natural gas resource that could provide Northern Ireland with decades of a local secure energy supply then we believe the people have a right to know.
"We believe that the presence of natural gas in Northern Ireland could bring considerable benefits to the local and regional economy with the potential for billions of pounds of investment; hundreds and potentially thousands of jobs created locally and importantly for Northern Ireland a secure supply of energy that could last for decades and potentially help reduce local energy costs. However, we first need to make sure enough gas is there to be commercially viable and that we will not know for certain until the end of the license period. This is just the first stage in that process," said Dr Bazley.
The press release continued: "The site near Belcoo, County Fermanagh is in an enclosed commercial area already used for heavy industrial purposes that will have limited visual impact. It will be secured on a 24/7 basis and the company will be taking all appropriate precautions to ensure the site is safe for workers and crucially local people. The company can also confirm that it will not seek to 'frack' on this site at any time in the future."
Investment
Dr Bazley added: "If the indications are that there is not enough natural gas that can be released from the shale rock then we will know this quickly and almost certainly decide not to continue with our investment in Northern Ireland. If we find a significant gas resource is likely we will continue to the end of the license term in 2016. Before the end of the license term a single site would be tested for natural gas if given planning permission."
"Any future application will be subject to the strictest environmental, health and safety standards and the public would have their opportunity to participate. This however, is still a long way off and ultimately any decision to use hydraulic fracturing will be made by the Government of Northern Ireland.
"We suggest that given the potential benefit this can bring to everyone in Northern Ireland that this deserves serious consideration and debate. We would ask that people approach with an open mind and willingness to listen to all the facts before making an informed decision. We believe the people and Government of Northern Ireland have a right to know if there is gas beneath our feet. People have a right to the facts and that is what we are seeking to establish."