Making sure have clean water can be a very important need, especially when you are traveling or away from your regularly available water supplies. While extreme survivalists often think ahead on issues like water, the regular person like me just doesn't – until it's too late. When I saw the opportunity to plan ahead for a change, I grabbed it and agreed to review the Acquapura Personal Water Filter.
The Acquapura Personal Water Filter Straw is a small, lightweight personal filter that you can keep in a backpack, car emergency kit, or a bug out bag. The filter has a triple layer filtration system that will make your water 100% safe by filtering 99.999% of waterborne bacteria greater than .01 microns. In other words, it gets even super tiny germs that could make you seriously sick from drinking the water. It not only filters the water, but it helps soften it and eliminate odors from it. Now I don't have a way to prove that personally, but it is certified by the WQA (Water Quality Association) and the TUV-SUD (an international testing & certification corporation). I do know that after trying it out the water tasted clean and fresh, actually much cleaner that the water from our faucet!
The way this works is by placing the inlet mouthpiece in the water and sucking on the filter like you would a straw. The water travels through the activated charcoal filter and then a fiber UF membrane, cleaning the water as it goes through. By the time it reaches your mouth it is clean. No boiling, no chemicals to add, just clean water.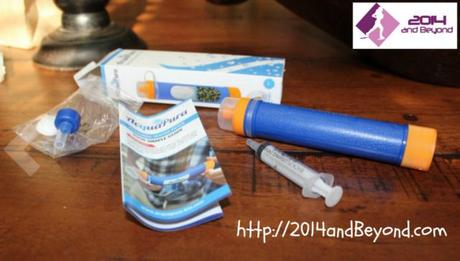 If you are going hiking or camping, or even f you are going to a 3rd-world country, this is good to bring for regular use during your trip, especially when unclean water is a concern. It would also be a great addition to the emergency kit in your trunk so you'll never be broken down in your car without the option of having a filter to drink available water.
One really neat thing is that you can screw the filter on top of a plastic bottle and then drink from the bottle. While it kind of feels a little bit awkward, when I have to choose between drinking horrible water versus awkward, awkward will prevail every time!  I think the best way to use this product in an emergency situation would be to fill bottles with water where you can find it and then afterwards, as you would drink from the bottle, you could filter as you drink.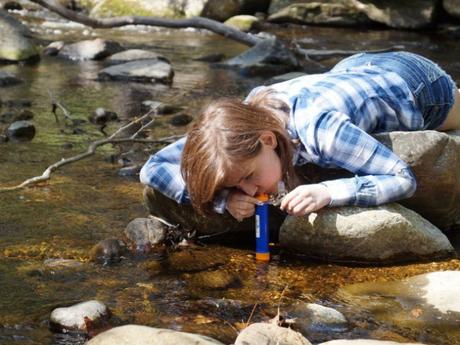 Using this filter, I found that the water tasted very good and it was actually very easy to use. The cap is easy to take on and off and it attaches securely keeping dust and debris out of the mouthpiece. This product comes with easy to follow instructions. Because I've never used one of these types of filters before, I have to say it was a very interesting experience. The quality of the product is good and the filtered water tastes good too.
I received the product mentioned above for free using Tomoson in exchange for my honest review and unbiased opinion. Regardless, I only recommend products or services I use personally and believe will be good for my readers.


~ ~ ~ ~ ~ ~ ~ ~ ~ ~ ~ ~ ~ ~ ~ ~ ~ ~

It would be great if you would stay connected with me!! You can follow me on Twitter @DebiL1611, like me on Facebook at 2014 and Beyond, circle me on Google+, follow me on Tumblr, Instagram and Bloglovin', subscribe on YouTube, or connect with me on LinkedIn and Pinterest.

Please make sure to visit my homepage and subscribe to my blog for more great posts on running, fitness and lifestyle topics as well as food, product, music and book reviews, and more!