I know, weird title, but truth be told, I do eat a lot of salads. Personally, I believe that they are the perfect lunch or dinner and if topped with the right ingredients, can be a healthy AND satisfying meal!
As I flipped through the pages of my mom's "Montreal Cooks" cookbook, I came across a recipe (for salad of course) that really caught my eye (and got me super hungry.) The "Roasted beet, walnut and goat cheese salad" served at Taverne sur le Square (1 Westmount Square) looked so delicious-and with the richer ingredients the flavours work perfectly with the cooler weather! I really wanted to try it-so I've decided to make it for dinner tonight.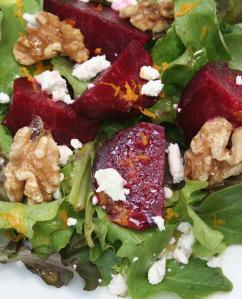 Since I'm having dinner alone tonight- I'm blogging as I munch away, and I must say, this salad IS AWESOME.
I'll write the recipe down below- hopefully you like it as much as I do.
Now that dinner is almost over-I have to go prepare my books for the coming week. School has started again people, back to reality.
Oh and Happy Labour Day!
Pam x