After spending my two week winter break reading (magazines of course), I seem to have come to a conclusion: Fur is totally back.
Even though this fashion staple has been popular for a few seasons, it keeps reappearing on runways for it luxurious feel and classic touch that designers love.
In fact, I bought my first fur vest just a few weeks ago. I used to find the trend a tad too pretentious and "madame" for my style, but as I looked through magazines and catalogues over break, I noticed that fur details were not too mature at all, but rather trendy and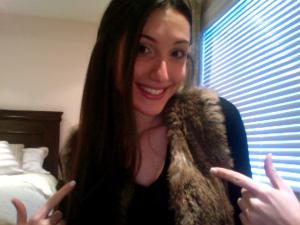 fashionable.
I noticed fur trimming collars and cuffs of jackets or skirts, which puts a playful spin on boring and dark winter apparel.
Also, fur shrugs have grown in popularity this season. My opinion: A fur shrug should be a staple in every fashionista's closet. My fur vest keeps me warm (well, kinda), looks cute and makes me feel much more glammed up when I'm wearing it. Pair it with a chunky watch and studs for a put together, boho look.
Finally accessories such as hats, boots, gloves and even bags are highlighting the trend. I haven't personally seen any around yet, but I find something cute about a fur clutch-don't you?
The final verdict: I recommend everyone purchasing at least one warm and furry item (whether it be real or faux).
It looks like this trend is going to stay around for a while.
Now I am going to finish the last few pages of this month's Vogue-school starts tomorrow-why do I have a feeling my magazine reading won't last very long?
Pam x
Advertisement