School is starting, the weather is getting cooler and my nail polish color is getting progressively darker as the weeks pass. This can only mean one thing: Fall is here. Although I'm super bummed that summer is over-I am excited to see all my friends again (and read an actual book-I somehow made myself think that the July issue of Glamour was an intellectual and insightful read.)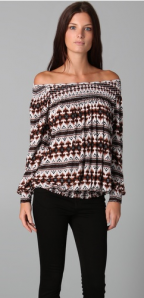 Which Fall 2011 trend am loving right now?
Native American Prints
. It started in the spring and summer with Tory Burch's bright printed skirts, and now we're getting the prints in slightly more subtle, rich autumn colors. If prints are not really your thing- rich, deep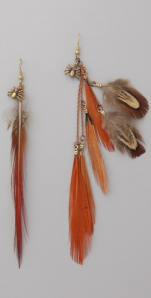 colors such as different shades of orange, brown and purple are also appearing on the runways-completing the crazier patterns that designers like Sass&Bide and Free People are creating.
I saw these prints and colors when I spent a few days in Paris this summer and fell in love. I'm planning on hitting up TNT, Holts and Influence U in an attempt to find some crucial pieces-as well as Mango, Zara and Forever 21 for staples that will complete my outfit.
Accessories are a big one too! Think shaded fringe shell necklaces, colorful beads and tons of feathers. I saw a really cute pair of feather earrings at Editorial (1455 Stanley) that I absolutely fell in love with!
I've always wanted to try a more "Boho-chic" look, this trend is exactly what I needed to give me that added push.
Off shopping,
Pam xx