As much as I love our beautiful city, winter's -30 degree weather has made the hot, sunny beaches of Florida into my winter getaway! I love the Florida weather, the family time, the shopping, and of course, the eating (clearly, in case you haven't figured it out, eating is my favourite sport). There is something so wonderful about blissfully cracking open crab legs while looking out into the endless ocean.
Unfortunately, there is no beautiful ocean to stare into in Montreal. However, the next best thing is Lucille's Oyster Dive: a seafood restaurant on Monkland that offers some of the freshest seafood and the best Florida-esque environment in Montreal! When I first walked in, I felt like I was in Miami beach! The restaurant boasts a beach-shack style bar and terrace with a decor that only emphasizes the feeling of being on vacation! What could be better, after a long day at work, than having a few oysters with a glass of Champagne in a trendy, relaxed environment?!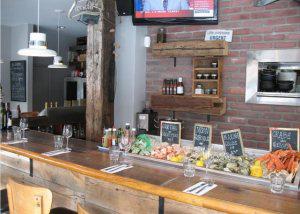 Lucille's offers a number of appetizers, including all of the "seafood favourites" like clams, mussels, and calamari! In fact, I opted for two appetizers instead of a main course, since I couldn't make up my mind! I had the tuna tartare with black sesame seeds, sesame oil and soya, as well as the lobster salad: both of which were super fresh, and really gave off the impression that the chefs REALLY CARE about food!
The main courses all looked scrumptious as well..so thankfully, since I only had two appetizers, I had enough room to pick off of everyone's plate!! They have everything from seafood platters to steaks and hamburgers, mostly accompanied by deliciously light side salads and super crispy fries. It seems like the most popular dish is the Lobster Roll, as everyone around me was eating it!!!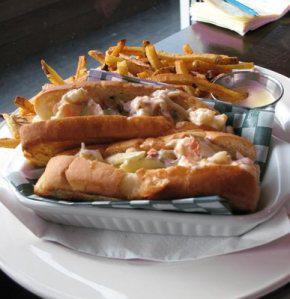 I give this place a double thumbs up for excellent food and wine, friendly staff, and well-suited decor. I truly felt like I was on vacation!! I know you may be skeptical of seafood in a city with no sea…BUT DON'T BE!! Try it for yourself, and you'll know what I mean!
Until next time,
Jess