The weather this summer has been pretty hot, and a few things have kept me going: huge sunnies, strapless maxis, chilled white wine, and, of course, light summery meals. My summer food staples? Big salads containing everything but the kitchen sink, and tartare.
Salmon and tuna tartare have been favourites of mine for as long as I can remember. So, when I found out about Marche 27, a tartare bar on Prince Arthur, my blackberry was already making a reservation! The restaurant itself is quaint, yet chic, and is conveniently located 12 steps from the great nightlife of St. Laurent street, making this spot a perfect destination for a bite/drink with friends before a night on the town.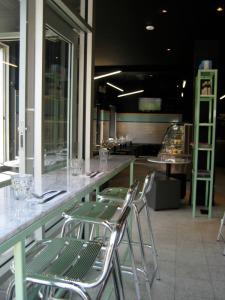 The menu: they offer several different raw fishes and meats (in 2 different sized portions), as well as an extensive list of marinates. It's simple: mix and match! Never being one to shy away from trying new foods, I decided on a Japanese style tuna, a Mediterranean style salmon, a French style Duck, and a spicy Deer. Each dish was plated in a creative way, with different crackers/chips to accompany the main attraction. While each tartare had a distinct taste, they were all super delicious and very fresh, not to mention quite affordable.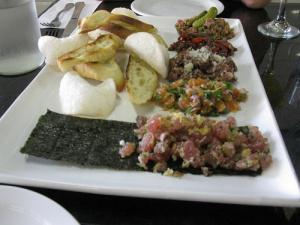 The restaurant also had a pleasing wine list, and a great selection of appetizers and other plates. I started with a beet, arugula and goat cheese salad! YUM!
My only complaint? The service was a bit slow… but I had great company, and the ambiance was nice enough to keep me busy- and bring me back again!
Try it out! I give it a thumbs up for the presentation, taste, and atmosphere.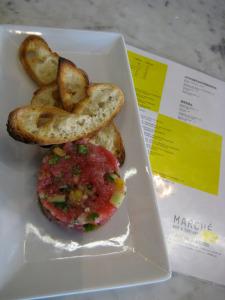 Enjoy the last few summer nights: the leaves will be changing colours soon enough.
Much love,
Jess