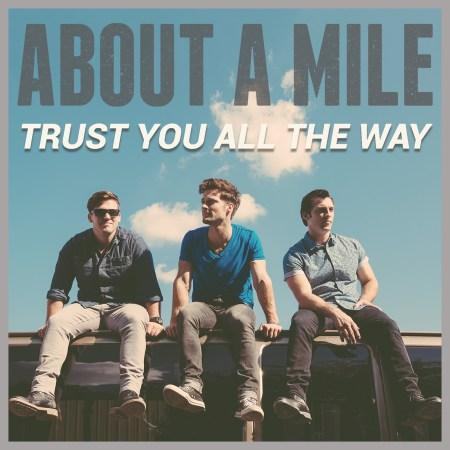 Have you heard of them? The band, About A Mile, has an awesome sound, and if you are anything like me, you came to know who they were when they released their songs, Satisfied, and Who You Say You Are back in 2014.  
They are releasing their new CD, Trust You All the Way on October 28, and this is definitely a CD you'll want to get your hands on! Often when I'm posting about new music, I like to tell you my favorite song on the CD.  This is one of those new albums that I'm just not able to put my finger on a particular favorite.  I'll tell you I really enjoyed the album titled song, Trust You All The Way, and not only did I love the music on this one, I loved the lyrics especially!  (Be sure to listen to the song below.) I'm not going to type them out for you here – pick up a copy of this album for yourself, and you'll find your new favorite!
About A Mile, whose name originates from the belief that Jesus carried his cross "about a mile," has carried their message from coast-to-coast. Lauded for their musicianship, authenticity and labeled "musical chemistry perfected" by one critic, the band has hit some of the nation's biggest venues with bands like Skillet, Sidewalk Prophets, DecembeRadio and more.
In this new season of touring, and in the spirit of trusting God with everything, About A Mile has decided to embark on their "Trust You All The Way" tour, which will essentially be free for anyone to attend. Taking a freewill offering at the events, About A Mile launches the tour Oct. 14 in Bluefield, WV and will traverse the country through late November. To inquire about booking this free event, and for all the latest tour dates, go to http://www.aboutamile.com/trustyouallthewaytour/.
"Many tears cried and many nights broken over the people we're setting out to reach has left us with the conclusion that real ministry for us is going to be done in a position of full dependency on God," shares Adam. "We stripped everything back down to the basics and said, 'let's trust God without a budget, without a massive stage and without a major label even.'
"We've tasted the fruit that comes from the victory of a willing spirit determined to pry the vices of the world out of sinful hands and replace their value with what God has to offer," adds Adam. "Where your treasure is, there your heart will be also. It's time to throw off everything that hinders and the sin that so easily entangles. The best way to run with perseverance the race marked out for us is by bowing our head and telling God, 'I trust you all the way!'"
For all the latest About A Mile tour, album and more news, go to www.aboutamile.com, Twitter, Facebook, YouTube, Instagram, iTunes, Google Play and Bandsintown.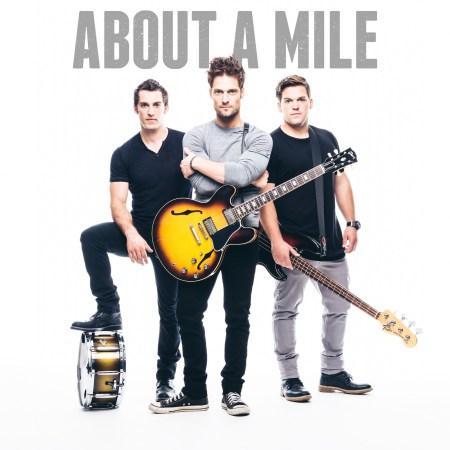 ~ ~ ~ ~ ~ ~ ~ ~ ~ ~ ~ ~ ~ ~ ~ ~ ~ ~

It would be great if you would stay connected with me!! You can follow me on Twitter @DebiL1611, like me on Facebook at 2014 and Beyond, circle me on Google+, follow me on Tumblr, Instagram and Bloglovin', subscribe on YouTube, or connect with me on LinkedIn and Pinterest.

Please make sure to visit my homepage and subscribe to my blog for more great posts on running, fitness and lifestyle topics as well as food, product, music and book reviews, and more!