I recently had the opportunity to dine at ABC Kitchen, the wonderful collaboration between Jean-Georges Vongeritchten, James Beard Award winning chef and owner of Jean Georges, The Mark, Spice Market and others, and Phil Suarez, successful restaurateur.  This elegant and charming restaurant is located within ABC Carpet in NYC, arguably THE place to go for all of your home shopping needs.  It is not inexpensive to be sure, but there are abundant selections suiting every style and the restaurant was not any different.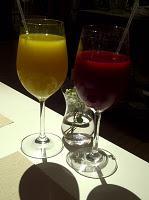 It wasn't time for cocktails so I decided to try an elixir of orange, mango and yuzu, a tart Asian citrus ~ it was so refreshing!  My colleague selected a beet juice that she seemed to enjoy as much as I did mine.  The "changing menu...is locally sourced & globally artistic...regionally grown, organically focused cuisine that is rooted in cultivating a safe relationship with the environment and our table."  How could we not be inspired?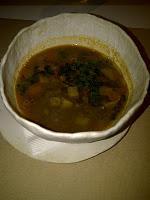 For an appetizer I selected the lentil soup with celery root and herbs ~ bay leaf, cumin, rosemary, thyme, coriander and red thai chili.  Despite that long list, none of the flavors were overpowering and they blended so nicely together.  The lentils accented the soup and didn't overwhelm it either.  It was really delicious.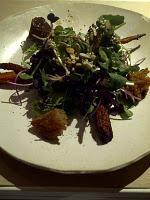 For my main course I had the roasted carrot and avocado soup with crunchy seeds and a citrus vinaigrette.  (Both this and the soup were meant to be served with cheese but needless to say, I had them leave it out.)  The salad was a nice twist to something I must eat daily, but I must say the olive oil roasted croutons might have been the highlight...
While I doubt they deliver, and certainly not outside the city, the beautiful tableware can be purchased at ABC Carpet, just up a few stairs from where we sat.  I bet they are the nicest to go containers you'll have ever seen ;-)