Hey Everyone!! This week is letter G for the ABC Challenge and I decided to do a Gold Glitter mani. I think I'll always love glitter polishes no matter year, season or day it is.  I also did some nail art using scotch tape.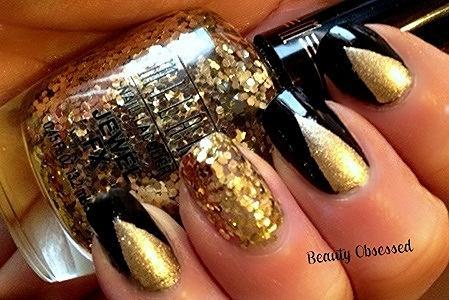 I used Black Out by Sally Hansen Xtreme Wear for my base on all my nails except my ring finger. Then I applied a coat of Seche Vite and let them dry for a good 20 minutes. With two pieces of regular Scotch tape I made a triangle shape to place on my nails and filled in the area with a coat of Gold Coin by Revlon. While the polish was still wet I carefully removed the tape. Once I did all my nails I applied another coat of Seche Vite, can you tell that's my favorite top coat? :)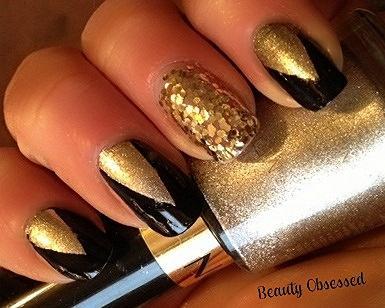 On my ringer finger I used Milani's Jewl FX  in Gold. I have a few of the other polishes in the Jewel FX collection and there more of a fine glitter but this one takes it up a few notches. To me this isn't normal glitter polish, it's like a dense layer of miniature sequences in a clear base. You can't paint it on like usual, for me I found it easiest to just apply a few blobs and use a toothpick to separate the glitter until my whole nail was covered.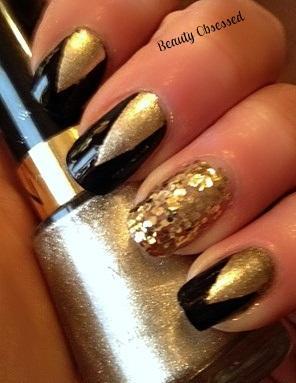 I'm excited to check out all the other ladies nail looks this week!! If you want to take part of this challenge just go to Kimber's Laquer Korner and let her know you're interested!!:)
Click the links below :) Follow via GFC Follow me on Twitter Like my Facebook Page Follow me on Bloglovin