Hey Everyone!! This is my second week doing the ABC Nail Challenge and I'm really having fun with it so far!! So this week is the letter F and I decided to go with a French manicure. I love French manicures because there are so many different looks you can create. I had a vision in my head of what I wanted my nails to look like, and then I got a little carried away... But this is what I finally came up with.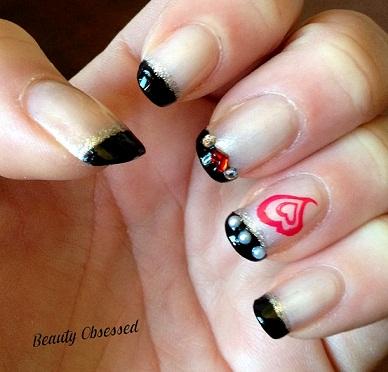 The camera made the rhinestones look mushed together & the two white dots on the tips of my ring and middle finger must be from the camera too!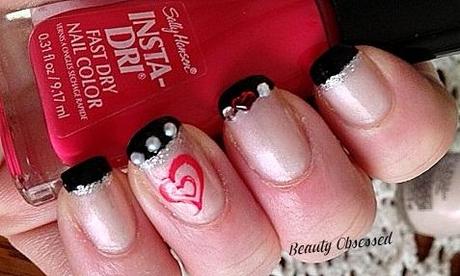 I used 2 coats of Social Ladder by Sinful Colors as my base, it's a pretty pinkish/pearl shade. Then for the tips I used a basic black and a silver striping polish for the glitter.  I used a heart image from one of the stamping plates that came in the  As Seen On TV Salon Express Stamping Kit I bought last year. I did a full review on it here if you're interested. I've only tried stamping twice because I'm really horrible at it! That explains the lopsided heart on my ring finger lol, but I really didn't want to start all over again. I used a few rhinestones to give it a Happy Valentines Day touch then topped it off with some SV.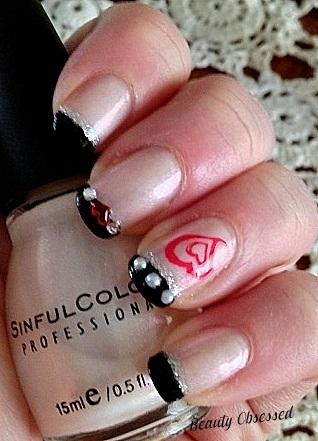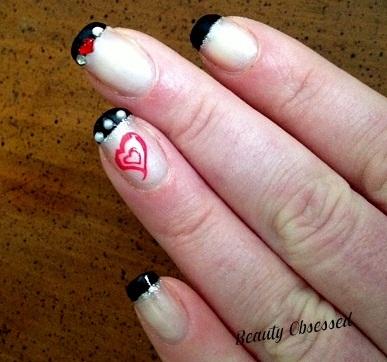 I'm pretty pleased with how they came out, like I said before the pictures make them look a bit sloppy. Anyway, I had fun putting this mani together and I'm looking forward to seeing everyone else's nails this week. 


Happy Valentines Day Lovies!!!!

Click the links below :) Follow via GFC Follow me on Twitter Like my Facebook Page Follow me on Bloglovin