Yeahhh!!!! for this week's challenge, polka dots! I love polka dots and since the last two weeks for this challenge didn't come out like I would have wanted, I was excited about this week.  I haven't done a polka dot mani for a while but I think it's one of the first nail designs I mastered. It's not hard to do either and you don't necessarily need dotting tools to do this. I used to use either bobby pins, toothpicks, basically anything that had a rounded end.
This was a perfect opportunity to get some real use out of the 5 pc dotting tool set Born Pretty Store sent me a few months ago. I used the 2 largest sizes for the dots and one of the smallest sides for the white dots on my accent nail.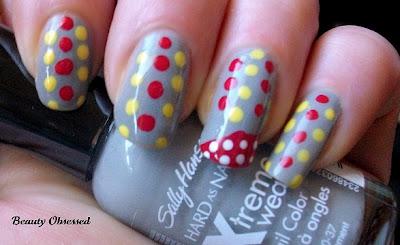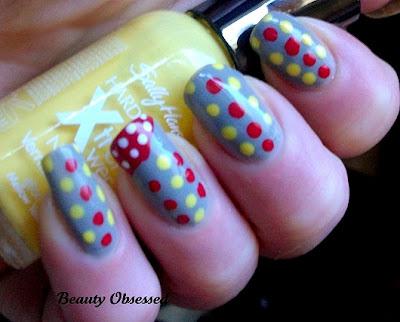 Sorry for the picture quality, I don't know what was up with my camera but it was hard to get some of the pictures clear. I've never had that problem before. Maybe my hand was shakier than I realized.
Don't ask me what made me choose the colors I did because I'm still trying to figure it out and decide if I like this color combo. After I finished my nails everytime I looked at them they reminded me of something specific but I couldn't put my finger on it. Then it finally came to me,  remember those candy buttons from back in the day? Where you had to rip the candy off a piece of paper. Candy buttons! For the exception of the colors.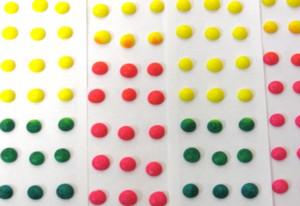 For the base color I used 2 coats of
Sally Hansen's Xtreme Wear in Wet Cement
 Then for the dots I used Sally Hansen's Xtreme Wear in Mellow Yellow and Wet n Wild Shine in Red. I felt like doing something different on my accent finger so I decided on a diagonal french mani with tiny white dots.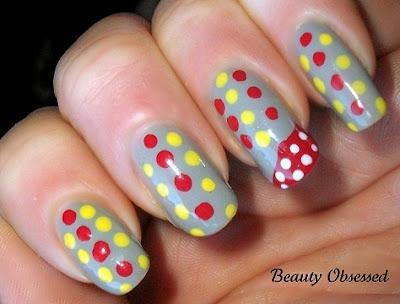 What do you guys think? If your also doing this challenge let me know so I can add you to my list. I love looking at everyone's nails every week. It's fun seeing what each of us decided on for the week's challenge. 
Click the links below :) Follow via GFC Follow me on Twitter