This week' s mani was Vintage, so of course I googled it and the only thing that came up was the mani with the half moon and the tips not polished. Thinking back to week 6's Half Moon mani and how much I failed at it, I couldn't imagine doing it again. So I decided to do something different.
When I think of vintage I don't think of just one era, to me it is something older that represented a certain time, no matter what it is. Whether this means Vintage or not, I thought of the bright colors from the 60's & 70"s and knew I wanted to use that as my inspiration. When I look at this picture it reminds me of the movie Austin Powers.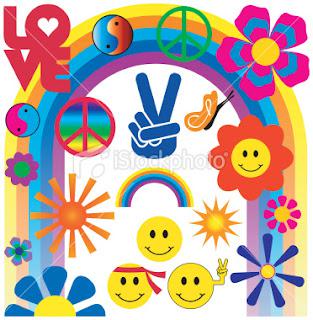 I know my nails don't look anything like this picture and I really didn't intend them to be. It's more of the bright, neon, crazy colors that I wanted them to represent.. So this is how my Vintage Mani turned out:
I used a very sheer light green by L.A Color Craze as the base, then I used my L.A Art Deco Striper Polishes for the rainbow effect I was trying to achieve. I used Sally Hansen's Nail Art Pen to draw the little smiley face and dotting tools to draw the flower.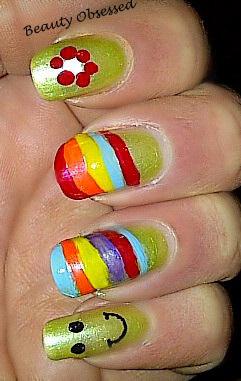 One reason I really like this challenge is because it makes me come out of my comfort zone when it comes to nail art and designs. They might not always come out the way I wanted them to (like this one) but it's still fun :)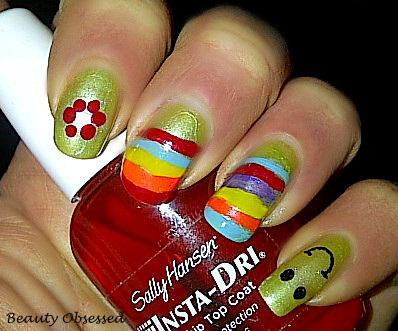 What do you guys think of this week's mani, even if your not taking part in the challenge. what would you have done?
Click the links below :) Follow via GFC Follow me on Twitter