I recently found out about a nail polish challenge, "A Year's Challenge" . I first found out about it from Jenna's blog I'm still thinking and I immediately knew I wanted to join in. 

I've been wanting to do a nail challenge for a while but couldn't imagine changing my nails every single day. This challenge is a different mani every week for the year so that's perfect since I usually paint my nails once a week anyway. I'm a few weeks behind but that's okay, I'm just gonna start with this week's mani which is the Half-Moon mani

.

I've seen this look a bunch of times but never tried it, It honestly never really appealed to me for some reason. I'm glad I'm trying this out though. I ended up using two colors from

Sally Hansen's Insta- Dri

collection,

Silver Sweep and Speedy Sunburst.  Silver Sweep

is a silver metallic and

Speedy Sunburst

is a bright creamy pink. Both colors only required one coat which I love!

What I don't love is how this manicure came out. I used those hole reinforcement stickers. If you don't know what I'm talking about, there those little O- shaped stickers you would use to reinforce punched holes in paper. You can get them at any store that sells school supplies or crafts. The ones I used did not want to stick too well to my nail & that's the most important part at getting a crisp line and moon shape.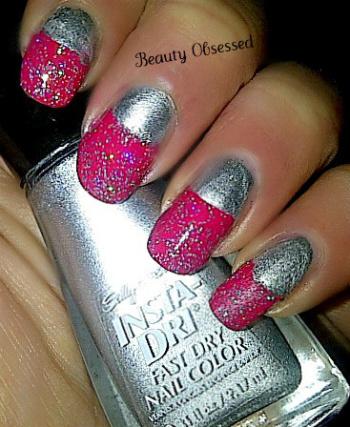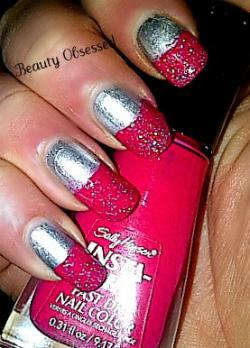 Plus I don't think I placed the stickers low enough on my nails..booo!!! Usually I would remove the polish and either start over or give up and do something different. But since I really want to go through with this nail challenge every week,  good or bad I'm going to show you anyway.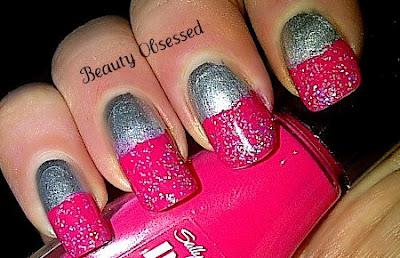 I do like the color combo and I added a coat of multi-colored glitter hoping it would help the mess I created. Not so much though. I do wanna try this look again  now that I know what I did wrong. I'm looking forward to seeing everyone else's nails that do this challenge :)
Here's the list of  each week's manicures for the year, in case you wanted to join. I'll eventually put up a list of all the bloggers who are doing this challenge.
1. Jan. 1st - "Make it Sparkle" Mani.
- Pull out your Best looking glitter, flakie or holo and bring in the New Year with a "Bang".
2. Jan. 8th - French Tip Mani.
3. Jan. 15th - Color Block Mani.
4. Jan. 22nd - Plaid Mani.
5. Jan. 29th - Newspaper Mani.
6. Feb. 5th - Half-moon Mani.
7. Feb. 12th - "Valentine's Day" Mani.
8. Feb. 19th - Corset Mani.
9. Feb. 26th - "Vintage" Mani.
10. Mar. 4th - Polka Dot Mani
11. Mar. 11th - "St. Patrick's Day" Mani.
12. Mar. 18th - Skittle Mani.
13. Mar. 25th - Ruffian Mani.
14. Apr. 1st - Striped Mani.
15. Apr. 8th - "Easter Day" Mani.
16. Apr. 15th - Dotticure Mani.
17. Apr. 22nd - "Earth Appreciation" Mani.
18. Apr. 29th - Cartoon Mani.
19. May. 6th - Floral Mani.
20. May. 13th - Bows Mani.
21. May. 20th - Fruit Mani.
22. May. 27th - Splatter Mani.
23. Jun. 3rd - Ombre Mani.
24. Jun. 10th - Flag Mani.
25. Jun. 17th - Pride/Rainbow Mani.
26. Jun. 24th - Neon Mani.
27. July. 1st - "4th of July" Mani.
28. July. 8th - Gradient Mani.
29. July. 15th - "Rockstar" Mani.
30. July. 22th - Water Marble Mani.
31. July. 29th - Crackle Mani.
32. Aug. 5th - Needle Marble Mani.
33. Aug. 12th - Galaxy Mani.
34. Aug. 19th - "Bling" Mani.
35. Aug. 26th - Cupcake Mani.
36. Sept. 2nd - Tape Mani.
37. Sept. 9th - "We Remember 9/11" Mani.bui
38. Sept. 16th - Metallic/Magnetic Mani.
39. Sept. 23rd - Dry Marble Mani.
40. Sept. 30th - Animal Print Mani.
41. Oct. 7th - Patchwork Mani.
42. Oct. 14th - "Pink 4 Breast Cancer Awareness" Mani.
43. Oct. 21st - Spider Web Mani.
44. Oct. 28th - Halloween Mani.
45. Nov. 4th - Tribal Mani.
46. Nov. 11th - "Mustach, 4 Movember; Prostate Cancer Awareness" Mani.
47. Nov. 18th - Thanksgiving Day Mani.
48. Nov. 25th - Feather Mani.
49. Dec. 2nd - Glitter Sandwich Mani.
50. Dec. 9th - Snowflake Mani.
51. Dec. 16th - Red Mani.
52. Dec. 23rd - Christmas Mani.
- 30/31 - you've learned enough; go all out and show 2O13, what its all about!
If you have any tips on how to do a better job with this look let me know. Also, if you're interested in doing this challenge, go for it!!! It's only once a week and it helps you to learn how to do different nail art or improves your skills :)
Click the links below :)
Follow via GFC
Follow me on Twitter