I can't believe it's been 19 weeks of this nail challenge already, granted I didn't start until week 6 so it's only been 14 weeks for me. There has been a few weeks that I really hated the way my nails came out and wanted to just skip that week but then that would have defeated the purpose of the challenge. But anyway on to this week which was a floral manicure.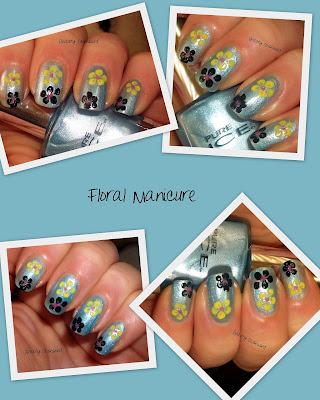 There are a a lot of different types of flowers you can make on your nails. I went for the easier ones I guess. I actually like the type of flowers I drew, I just wish they came out a little neater but not every flower is perfect, right?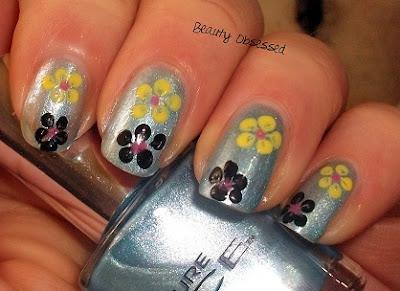 I used Pure Ice in Splash for my base coat, it's an almost see through light blue with a tiny bit of glitter. I only used two coats since I knew most of the nail was going to be covered with flowers but if I was to wear it alone I would probably go for 4 coats.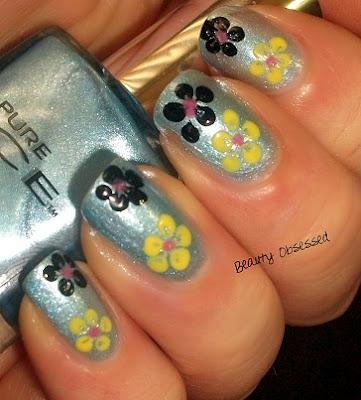 Then I used yellow, black and pink polish, a few dotting tools and a tooth pick to draw the flowers. I made 5 small dots with my bigger dotting tool and once the polish was tacky I took a toothpick and lightly drew a small line from the middle of the dot outwards to give it a sort of 3-D look. I'm not too sure that was a great idea now. Then using a small dotting tool I made a small pink dot for the middle of the flower. Then finished it up with a coat of Seche Vite.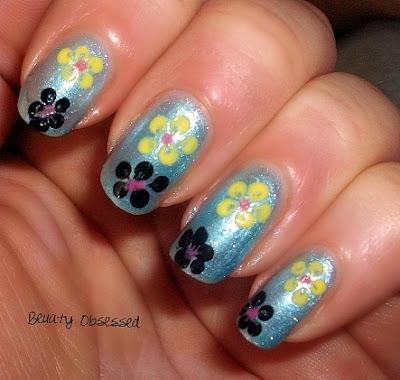 What type of flowers do you like to draw on your nails?