I'm sorry for posting this week's mani so late and I'm sorry for hardly posting at all this week. This week ended up being crazy and before I knew it today was already Friday. I think this is the first time I've went a whole 5 days without one post and I don't like how that feels. Maybe I'm just being silly but I don't want to let you down or feel like I'm letting myself down when it comes to my blog. I think this week's rush is over so I will be back to my normal schedule, if you want to call it that. I wanted to let you guys know that though so now on to this week's nail challenge!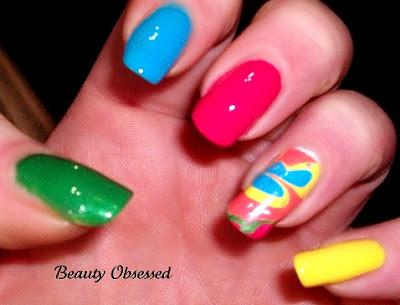 This week was a skittle mani, at first I wanted to do a full water marble manicure with all the colors but I really wanted to get this post up today and I knew I wouldn't have time so I just did the water marbling on my accent finger.
I hardly ever take nail pictures with my thumb showing so when I do I feel like my hand looks funny or unnatural.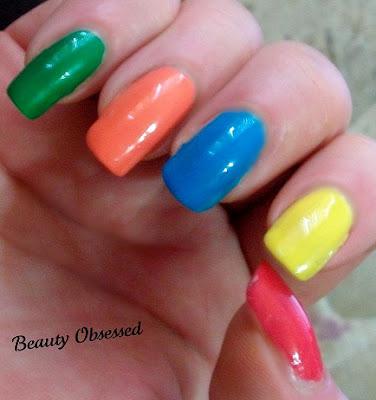 I like the way this came out, I feel like it was the perfect time for it since it's been so warm this week. The colors are nice and bright and remind me of summer. Oh I can't wait!!.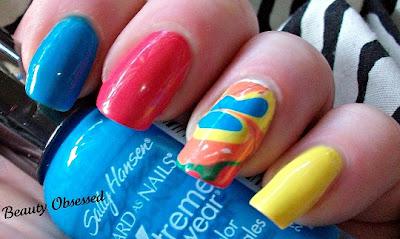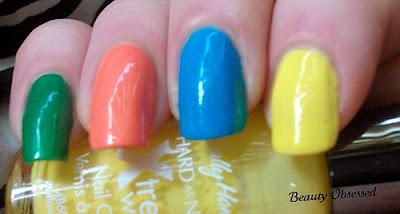 The colors I used were

(L to R)

 Sally Hansen Insta- Dri in Speedy Sunburst and Snappy Sorbet and Sally Hansen Xtreme Wear in Blue me Away, Going Green and Mellow Yellow.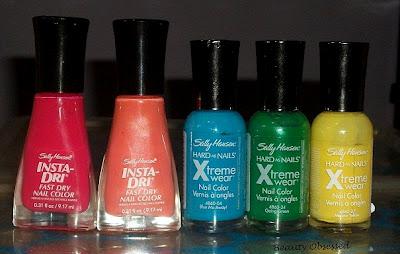 I've always liked the different color on each nail trend especially around spring/summer. I wish I had all these colors in pastels, that would have looked really pretty too. 
What do you think of this week's challenge, do you like painting each nail a different color or no?

Click the links below :) Follow via GFC Follow me on Twitter Like my Facebook Page