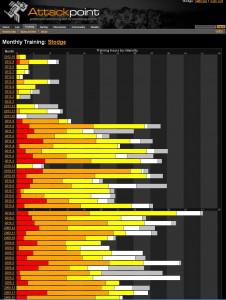 Well its now a year since I jumped off a garage roof in Russia. The view of my training diary  says it all

A quick update – my back continued to get better over the last 6-8 weeks and I have been able to do a little turbo trainer and road rides (on a full sus mountain bike) though only for up to 90 mins but it has plateaued again and I can easily over do it. What really still gets me is impacts and standing still for any period of time, I have to avoid them completely.
I had an MRI scan 2 weeks ago and see the Consultant and Surgeon together in two weeks. We will then make a decision as to whether I try another lumbar injection or if its under the knife time to get in there and see what the problem is…..
In the mean time I am under orders to get some aerobic fitness back and get rid of some weight (lost nearly 3 kgs already) so I am in the best possible state to have an operation. Fingers crossed!