I'd like to introduce you all to a wedding blogger I love! This is Louise, who blogs at A wedding in wellies. I love reading her blog because she's a real bride to be with a brilliant sense of humour. I can't recommend Louise's wedding blog enough!
I asked Louise if she'd like to write a guest post for English Wedding and she said yes. I still can't stop grinning at that! So from one brilliantly inspiring bride to be: wedding tips for all you brides and grooms out there. Enjoy

My wedding tips- Louise from A wedding in wellies
Hello Claire!
With just six weeks left until the big day, dare I say it, everything seems pretty much sorted and in place. And considering we've only had a budget of £5,000 to spend, I think we're doing ok.
We're keeping it simple, with just 50 guests (close friends and family) and the reception will be a party in a marquee in my mom's wonderful garden with a hog roast buffet. And because the food and venue are such a bargain, we've been able to afford to hire a small bar and make it special with our own little touches.
Lots of people have asked how we've managed to pull it all together on such a small budget, without sacrificing anything – so I wondered if your readers might be interested in how we're doing it…
Don't get carried away. If you're on a tight budget, know when to step away from the bridal mags. By all means, use them to steal ideas and inspire you (I have an Everest-height pile of them), but mind you don't get sucked into believing that the day won't be perfect unless you have a band of Peruvian guitarists or hand-made tablecloths made from fairy wings and unicorn hair. Trust me, I had to give myself a slap several times.
You don't need half the paraphernalia they say you do, and you don't have to do all the things that everybody else does either. Break the traditions and do your own thing, it'll make your wedding personal to you. Which leads me to my next point:
No-one gives a monkey's about favours. There I've said it. And look I haven't been struck down by lightening. When you're on a budget, every penny counts, so spend the money on booze instead. Or a ruddy great cheese board. (that's what we're doing!) People like lots of food and drink at weddings.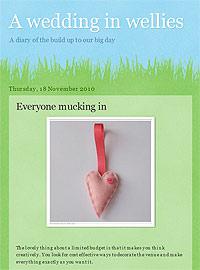 Everyone mucking in (from a wedding in wellies)
Don't be scared to rope people in to help. Almost everyone at our wedding is doing something to help. And it's actually quite nice, because everyone is feeling really involved and excited about the day. A wedding is all about a nice gathering of your favourite people, all helping you celebrate the best day of your life. So the more they can be a real part of it, the more memorable it will be for them too. And because they love you, you'll find people will bend over backwards to help. But sentimental reasons aside for a sec, it'll also save you oodles of cash.
For example, my mate is a whizz with an SLR camera and won't be charging the £1,500 we were quoted by a professional. Another mate is DJ-ing by using his laptop, my Mum's making cakes and my mother-in-law is doing my hair. It's amazing how much money these things alone are saving us.
http://weddinginwellies.blogspot.com/2010/11/everyone-mucking-in.html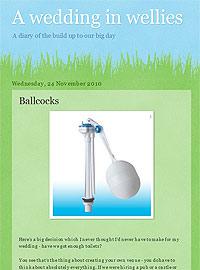 Ballcocks from a wedding in wellies
Marquee receptions are cheap as chips – but be prepared to consider all sorts of daft things. Hiring a marquee is much cheaper than hiring a pub/castle/golf club. But be warned, the one good thing about a 'real' venue is they automatically come with things like toilets, cloakrooms and a car park. So be prepared to consider those daft details.
Don't worry though, most decent marquee hire companies include things like loos for a very small price. (Ours have music playing in them, which will come in handy if the DJ gets too drunk to perform.)
http://weddinginwellies.blogspot.com/2010/11/ballcocks.html
Don't invite people you don't like.
Sounds obvious, but so many people invite feel compelled to invite Derek and Rita cos they are mum's aunty's cousins best friend. Or those friends whose weddings you went to five years ago but haven't seen since. Be ruthless. It's your day, keeping the numbers low will mean you get chance to talk to everyone and make it a cosy, intimate do. Plus, there's surely nothing worse than watching someone you barely know drinking all your champagne!?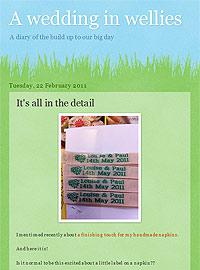 A wedding in wellies - getting creative
Get creative and make it your own
http://weddinginwellies.blogspot.com/2011/02/its-all-in-detail.html
You don't have to get all Kirstie Allsop and suddenly teach yourself the inner workings of a sewing machine. But any personal touches you can add yourself will not only save you money, but will make it YOUR wedding. For example I've made napkins by cutting out squares of vintage-looking material with crimping shears, then adding cute little labels with our names on. Minimal effort, cheaper than buying or hiring, and friends are already threatening to pinch them as souvenirs.
Having said this – if you go down this route, know your limits. If you take on a project that's too big or complex you'll get all stressed out. You have enough to do, so cut creative corners where you can. Mum and I are making cupcakes for our wedding, and I'm happy to dabble with an icing bag but there's no way on this planet I'll be hand-cutting tiny flowers from sugar paste. I'll buy them ready made – the effect is exactly the same
Remember to laugh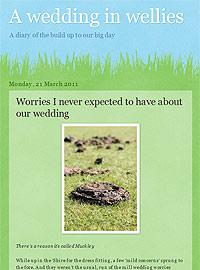 A wedding in wellies - remember to laugh
It's a happy occasion after all. And once you admit to yourself that things may not run perfectly smoothly, it'll be less stressful when something does go wonky.
I am pretty certain that someone will get chicken poo on their Jimmy Choos. I'm not convinced the vicar will remember our names. It's also highly likely that a tractor full of manure will hurtle past during the speeches. But hey. It'll make it memorable won't it? And by that point, I'll have my husband to laugh about it all with.
http://weddinginwellies.blogspot.com/2011/03/worries-i-never-expected-to-have-about.html