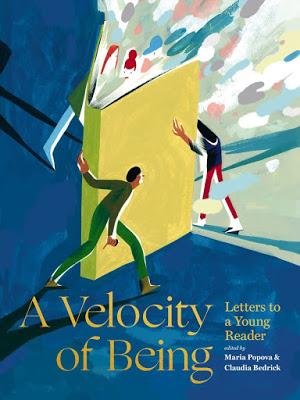 This was a Christmas present from my in-laws (who also introduced my to Maria Popova's excellent online anthology Brain Pickings.) It's a collection of letters to young people on the value of reading, written by various authors ( Ursula LeGuin, Ann LaMott, Jane Goodall, Neil Gaiman, Susan Orlean, to name a very few) and beautifully illustrated by different artists (Charles Vess, Maira Kalman, and Roz Chast.) The letters range from profound and serious to funny and profound -- and they are so good that I've been rationing my consumption over the past months. 
One of my favorites was from Eve Ensler (The Vagina Monologues)
"Here's why I read," she says. "I got to travel the rainy dark streets of London,
The sultry bayous, the exploding cosmos 
 . . .
I felt unexpected things for pigs 
And spiders.
I stopped being lonely
I met myself everywhere
I got lost
I got found
I became other people
. . . 
I refuted the mean voices in my head
I found my own."