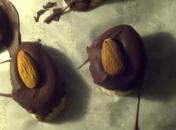 I love Passover.  I do.  It is one of my favorite holidays.  Spring is finally here, friends and family come together who may not often have the chance to do so, (perhaps that's the real reason behind four cups of wine? Kidding!) and I have to admit, I love matzah.  Yes, it's dry, and brittle, and "binding"…but I like it.  Having said that, a girl can't live on matzah alone.  As a vegan, as with many holidays, Jewish or not, it can be a challenge to find great recipes that feel appropriate to the celebration.  Well…you're welcome…I found some great ones!  And rest assured, these can surely be for Easter for those of you who celebrate that instead!  (And Sweet & Sarah makes great vegan marshmallows that blow peeps out of the water!) Here's a list of what I'll be serving up to my guests on Monday night:
---
Chopped "Liver" Spread courtesy of No Cholesterol Passover Recipes by Debra Wasserman and Charles Stahler
3 Tbsp. oil
1/2 lb. mushrooms, chopped  
1 small onion, chopped
1 cup chopped walnuts
Pepper and salt, to taste
1 Tbsp. water
Sauté the mushrooms and onion for 8 minutes. Pour into blender or food processor, adding walnuts, seasonings, and water. Blend until smooth. Serve on matzo as a spread.
Cauliflower Francaise courtesy of Passover by Design and adapted for vegans
2 heads, cauliflower
1 c plus 1 TBSP potato starch, divided
fine sea salt & freshly ground black pepper
1 TBSP arrowroot, well diluted in water (this replaces 3 large eggs)
olive-oil flavored cooking spray
3 TBSP non-dairy margarine
juice of 1 lemon
1 c white wine (always choose a wine you'd want to drink)
½ c vegetable stock
3 TBSP chopped fresh curly parsley
Preheat oven to 425 F
Cover two large cookie sheets with parchment paper and set aside.
Trim the cauliflower to the base so it sits flat on the cutting board.  Trim two outer ends.  Make 3 3/4 inch lengthwise cuts to yield 3-4 steaks from each cauliflower.  Keep the remaining pieces that fall off in tact bunches as much as possible.
In a shallow bowl or pie plate, stir together 1 cup of potato starch, ½ tsp of salt and ¼ tsp of pepper.  Dredge the cauliflower steaks, one at a time, in the potato starch mixture, shaking off the excess.  Repeat with the smaller pieces.  Lightly whisk the arrowroot in water, and dip the cauliflower to lightly coat, letting the excess drip off.  Then place on the cookie sheets.
Once all of the cauliflower is coated, spray the tops with the cooking spray.  Season again with salt and pepper to taste, and bake 20-25 minutes or until tender.
In a medium skillet, melt the margarine.  Whisk in 1 TBSP on potato starch and then add the lemon juice, wine and stock.  Season with ½ tsp salt and ¼ tsp pepper.  Bring to a simmer and cook for 2 minutes until thickened and translucent.  Toss in the parsley and spoon over the cauliflower.  Serve immediately.
Roasted Beet Salad courtesy of Passover by Design and adapted for vegans
**TIP: If you have never cooked with beets before, you need to know they stain.  Wear something you don't mind getting ruined and consider gloves!
2 medium/large red beets, scrubbed but not peeled
2 medium/large golden beets, scrubbed but not peeled
olive oil
coarse sea salt or kosher salt
dried thyme
1 TBSP organic agave nectar
2 tsp imitation Dijon mustard
3 TBSP orange juice
3 TBSP olive oil
1 TBSP balsamic or apple cider vinegar
2 oz frisee lettuce
3 oz red leaf lettuce
1/2 c chopped walnuts
Preheat oven to 450 F
Line 2 cookie sheets with parchment paper.  Slice off the top and bottom of each beet.  Slice into rounds as thin as possible.  Drizzle each beet slice with olive oil, brushing it to evenly coat.  Sprinkle with salt and thyme.  Place on prepared baking sheets.  Roast 18-22 minutes, until the beets are soft and slightly shrunken.  Smaller or thinner beets will need to come out of the oven earlier so that they don't burn.  Set aside but keep the colors separate so that they don't bleed. 
Using an immersion blender or whisk, combine the agave, mustard, orange juice, olive oil, and vinegar.  Blend or whisk until emulsified.  Season with salt and pepper.
Place the frisee and red-leaf lettuce leaves into a bowl and lightly dress, tossing to combine, reserving 6 tsp of the dressing.
Arrange the roasted beet slices, in alternating colors, on a single layer on each plate.  Drizzle a scant teaspoon of the dressing over the beets.  Place a tall mound of the greens into the center of each plate, allowing the beets to peek out.  Sprinkle with walnuts.
Chocolate Drenched Stuffed Fruit courtesy of Passover by Design
12 medium-large strawberries
12 large blueberries
12 large raspberries
2 medium bananas, sliced into 10-12 pieces
12 pecan halves (I used almonds)
1 TBSP shredded coconut
4 (3.5oz) bars good-quality bittersweet Swiss chocolate, chopped into small pieces (I used semi-sweet Ghirardelli chocolate morsels)
Line a large cookie sheet with parchment paper.  Place a small cooling rack on a small cookie sheet.
Stuff the raspberries with about ¼ tsp coconut, and place them on the cooling rack, coconut side up.
Remove the greens and dig a hole about the size of a blueberry in the tops of the strawberries.  Gently press a blueberry to fit deep into each prepared strawberry.  Place these on one side of the parchment-lined cookie sheet.
Over a double boiler, melt ¾ of your chocolate, stirring constantly until smooth.  Once melted, remove immediately from heat and stir in the remaining chocolate until smooth.
Working quickly, drop a banana piece into the chocolate, and lift it out with a fork.  Lightly tap the back of the fork and then slide it along the edge of the bowl to remove excess chocolate.  Place the banana back on the parchment lined sheet and top with a nut.
Dip the strawberries into the chocolate, about ¾ of the way, blueberry side up.  When you put it back on the sheet, place it blueberry side down.
Using a small spoon, drizzle remaining chocolate over the raspberries.
Refrigerate for a few hours to harden the chocolate and then serve!  They last a day in an air-tight container or freeze for up to a week!
**I watched Chef Alex Guarnaschelli (you might know her from Chopped) make this dessert on her show, Alex's Day Off, this morning on the Food Network.  It looked too simple and too delicious not to try!
In a sautee pan, melt 1 TBSP of (vegan) butter.  Once melted, add 1/2 c of whole almonds and 1/4 tsp cinnamon.  Once coated, set aside in a small bowl.
Put the pan back on the stove and add 1 pound of pitted cherries, 1/2 c of sugar, and a cinnamon stick or two.  As the sugar starts to liquefy, remove the pan from the heat, and a 1/2 c of Grappa, and then place back on the stove (but stand back a little in case it flames!)  Finish cooking until the cherries are well glazed, and spoon the mixture into small bowls or mugs.  Top with the cooked almonds and serve with a scoop of lemon sorbet.
Regardless of the holiday you celebrate, I hope it is a beautiful and delicious one!