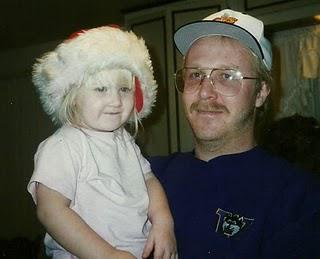 Darrin C. Burch
(Sept. 2, 1964 - Jan. 17, 2011)
It feels unreal that less than two weeks ago I was writing about feminist issues, and now I'm writing about my dad who has passed away.
Each word I write and each breath I take feel like a cruel dream at the end of a rough day. But it's real, it's here, this is now, and my world will never be the same. I don't think
I
will ever be the same.
My dad was in intensive care for about a week before he was officially pronounced brain-dead; as much as they tried to pump life back into him, his body wouldn't have it. All we could do was sit by his side for hours on end, hold his hand, and rub the arm hair we used to make fun of.
It's true what they say:
you don't always realize what you have until you lose it
. Because as much as I knew in my heart that I loved my dad, we didn't always see eye to eye. But in retrospect, everything we argued about, everything we butted heads on... that stuff 
really
didn't matter. I want to smack myself because I wish I would have just swallowed my pride and let him be right once in a while so we could get on with life. I wish I would have savored every simple, happy moment.
As an "angsty" teenager, I feel like I never gave people the true story about my dad. It was always "yeah, my dad did this," or "he makes me so angry sometimes!" But did I ever tell anybody about how he used to pay me to try to get him to laugh by tickling his feet - and after seventeen years I finally succeeded? Did I ever tell anybody about how he used to flaunt his "moves" (especially one he made up called the
Praying Mantis
), or how he used to rub my earlobes "for power"? Did I ever tell anybody all the silly, simple, amazing things about him? Did I?
Let this be one of my greatest tributes to my dad: the true story.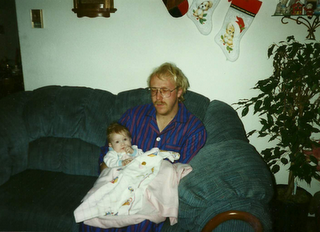 Me and my dad on Christmas morning.
(Can't you just feel the excitement?)
To my dad, immense joy could be found in a new pair of socks. I could never understand that. I mean, really? Socks? I always thought that was lame and unoriginal. I can even remember trying to do my Christmas shopping as a kid and being
so darned frustrated
because Dad would never flat-out tell me what he wanted.
"I'll like anything," he'd say.
"So you're saying I can get you a rock with some mud on it, and you'll be happy?!"
He always said "yes." That's the kind of guy he was.
My dad and I would take walks sometimes, and just talk about the future, my prospects, and where I was going in life. My dad had faith in me like no other, and when he said he was proud of me, I was proud of me.
One of the only times I ever saw him cry was when I sang in public for the first time. He said he couldn't believe how
brave
I was - and coming from him, that meant a lot.
He was also my dinner buddy. Nobody else in my house likes ribs, for example, so when Dad would slap a rack on the BBQ - just for the two of us to share - watch out! I wonder who will eat ribs with me now.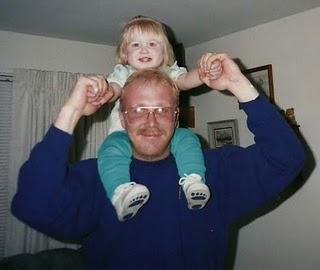 One time my dad saved me from choking on a chip,
another time he jumped into a pool - fully clothed -
to stop me from drowning. This guy was my hero.
But the absolute
best
memories I have of my dad are from the time we spent together, just the two of us, out on the basketball court.
Once in a blue moon we would pack up our ball and head to my old elementary school to shoot hoops. He would always show off by doing crazy dribbles, jumping up, and dunking the ball like he used to do when he was a kid.
My dad was
so cool
when he was flying in mid air. He was Superman._________________________
My dad was one of the quietest, most private people you would ever meet, but I don't think he realized how many people truly loved him, looked up to him, and respected him. Even in the end, he was incredibly selfless and chose to be an organ donor (we just found out that his heart will be going to somebody at the University of Washington - fitting, because he was a Husky fan).
I will be saying goodbye to my daddy for the last time tonight, and it may just be the hardest thing I've ever had to do. But I need to tell him a few things, including how much I loved him.
How much I
love
him.
In closing, I have a few things to say that probably won't make any sense, but my dad will get it:
Dad, for as long as I live, I'll try not to leave the fridge door open too long,or let my fan run and run,or turn the lights up too high.And I will always, always put my chips in a bowl!