I'm sad the weekend's coming to an end but consoling myself with the thought that this time next week I'll be on vacation in Asheville, NC!  I've always heard it's a really fun town and can't wait to check it out.  And after this trip I'll be down to three states (LA, AR, and MS) - which should definitely be doable by my 30th birthday in July although I'd rather go sooner than later given my lack of love for extreme heat and humidity.
Dinner this evening was thoroughly springy (bordering on summery).  I made some pasta inspired by this post on 101cookbooks.  That's Pappardelle's Sweet Potato Orzo with Yellow Squash and Kale cooked with garlic and a small amount (1/2 tbsp) of butter and topped with some parmesan I picked up on sale at Whole Foods today.  Sprinkled with black pepper and paprika.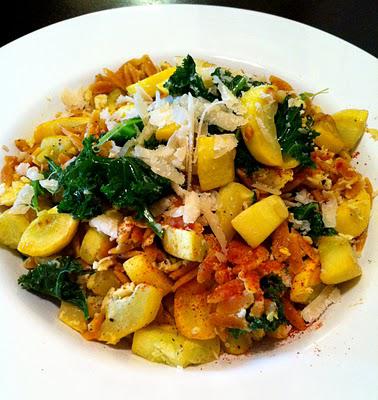 I also bought one perfect heirloom tomato at Whole Foods (and some gorgeous muscato grapes).  It's kind of obscene how much I paid for this thing but I was craving a tomato and just couldn't bear the thought of being disappointed by biting into a substandard one.  The tomato didn't disappoint- I had planned on eating it with balsamic and feta but after seeing how amazing it looked I decided to just sprinkle with a bit of kosher salt and not mess with perfection.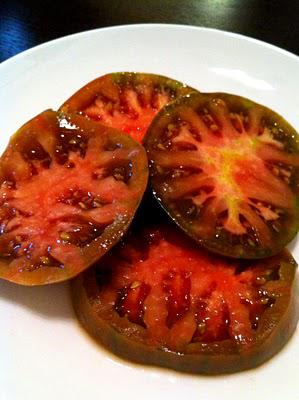 I'm off to enjoy the rest of my evening and prepare for the week ahead!  I'm actually making some balsamic glaze right now, I was eyeing it in the local specialty food shop the other day but told myself it was silly to pay when I could do the reduction so easily myself.  So I picked up some balsamic at Costco the other day and it is happily simmering away on the stove - making my entire condo smell like vinegar (which isn't a bad thing for me).