Another day, another trip.  This is one last quick trip to meet my goal of visiting all 50 states before I turn 30 in July!  I'm basing out of Little Rock, Arkansas and will be doing a LOT of driving tomorrow to visit Louisiana and Mississippi as well.  I'm kind of nervous because I will be driving right through some of the recently flooded areas so I'm hoping there aren't road closures.  Whatever happens I WILL persevere! :)
I got in late afternoon today and headed to the Riverwalk area to check that out and also see the Clinton Library which everyone recommended.  However, when I got to the library they wanted $7(?!) admission. I had just assumed it would be free and I didn't have enough time to justify the cost (plus I had just paid $10 to park, unnecessarily as it turned out since there was tons of free parking).  The Riverwalk area was cute but not super developed, an up and coming area still in the process I guess.  
I had done some googling for food recommendations and asked some coworkers who are from Arkansas for suggestions and had a short list of possibilities for dinner.  One was Copper Grill near the Riverwalk area which had promise based on the menu but when I got there it just seemed to kind of not welcoming looking.  So I walked on, heroically passed this place up (actually I probably would have stopped but I had no cash left after paying for parking and didn't know if they'd take a card), and got back in the car for the drive to Brave New Restaurant.  Brave New came recommended both on the chowhound boards and through a friend of one of my coworkers who lives here in Little Rock so I thought my odds were good.
This place had the WEIRDEST location I've ever seen, it's in this totally desserted looking office park and you have to go inside this building with hardly any signs that feels like you really shouldn't be in there and up a couple floors in an elevator like you'd see in a condo building.   You're still not sure you're in the right place until the second you walk in the restaurant.  Then you notice everyone else is wearing dress clothes and feel kind of conspicuous as a single diner in jeans and a t-shirt.  Fortunately they were very nice and didn't even look at me weird. :)
This is my view during dinner, kind of hard to see but I was on the end of a very nice patio overlooking the Arkansas River and downtown Little Rock.  And it was a beautiful day out, I was thinking this whole south in the spring/summer thing wasn't so bad until the table next to me started commenting on how it's NEVER this nice so I guess I'll continue to avoid this area once it gets hot. :)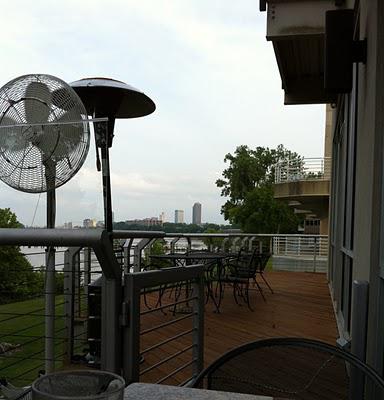 I started with a green salad with roasted garlic vinaigrette and veggies and a glass of Reisling.  Very good but SO salty.  I used to eat a lot of salty foods and have cut way back due to my blood pressure so my tastes are now pretty sensitive to this sort of thing but I think anyone would have found this salty.  Fortunately I do still have a weak spot for salt so it wasn't like I couldn't eat it or it was bad, it was just really salty.  Actually, aside from the salt issue it was pretty darn good.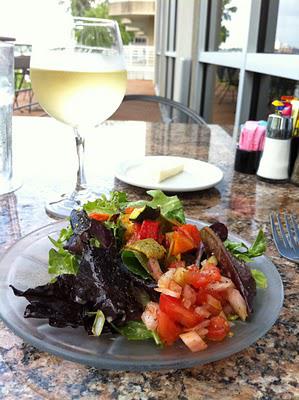 For the main course: chicken breast with a leek (and cheese) sauce, stuffed with boursin cheese and accompanied by carrots (with butter), zucchini (also cheese covered), and new potatoes.  Are you detecting a trend?  This meal was RICH, with tons of cheese.  It's hard to tell in the picture but I swear that chicken breast is 2/3 cheese, 1/3 chicken.  Of course, it was delicious.  How could it not be with ingredients like that?  I used to eat a ton of stuff like this and I still love it but it's been probably at least a year since I've had a meal anywhere near this rich.  I tend to admire a restaurant that can make something both healthy and delicious since, like I said, anything with that much cheese is going to be at least decent regardless of your skill level.  Apparently they haven't subscribed to the whole 'new south' healthier way of cooking that I saw so much of on my earlier trip to Asheville here in Arkansas.  It was definitely a good meal but it's got me questioning whether I want to take a shot at another expensive meal tomorrow night (I was thinking Loca Luna) or just do something more low key and try the hot bar at the Whole Foods near my hotel.  We'll see how I feel I guess.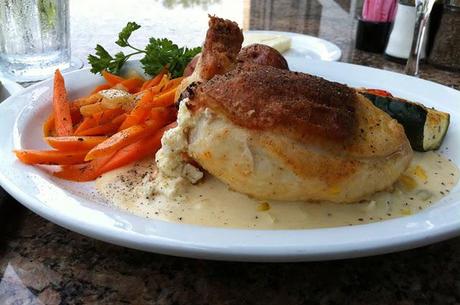 I checked into the hotel and spend around 30 minutes swimming laps in the hotel pool until I felt a bit less stuffed.  Now it's off to bed for an early start on a long day.  Midway through the driving extravaganza I'm hoping to have lunch here. Wish me luck as I attempt to conquer the Mississippi delta!