I hope everyone had a wonderful Christmas!
Our Christmas was very enjoyable but we did struggle with some sickness.
Though we had unsettled tummies and tired eyes we still were able to enjoy our Christmas celebrations.
On Christmas eve we had driven to Casper to visit with Shane's side of the family.
We all had a great time visiting and playing.
Then as soon as we were done we drove all the way back home so we could begin our evening traditions.
We started with each of the kids baking their own cookies and decorating them.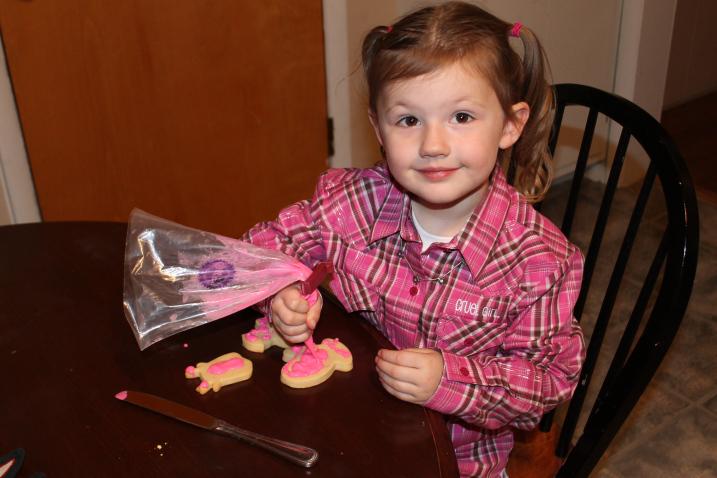 Faith was very insistent that the only color used on her cookies was pink.
She also used some purple per my request but it did take some convincing.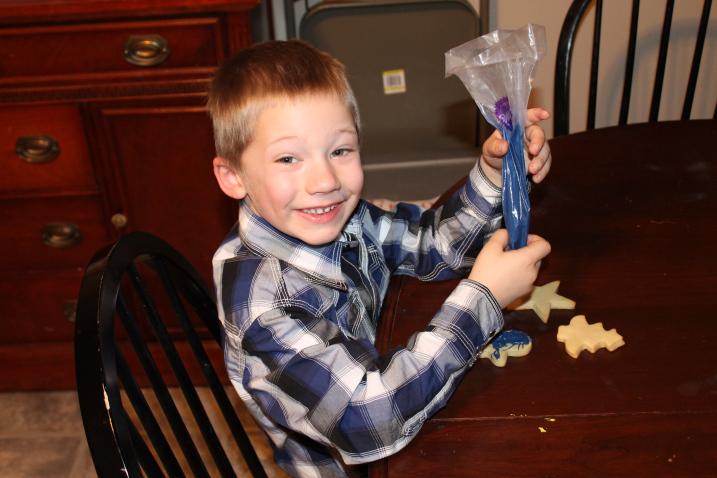 Jude really enjoyed using lots of colors to decorate his cookies.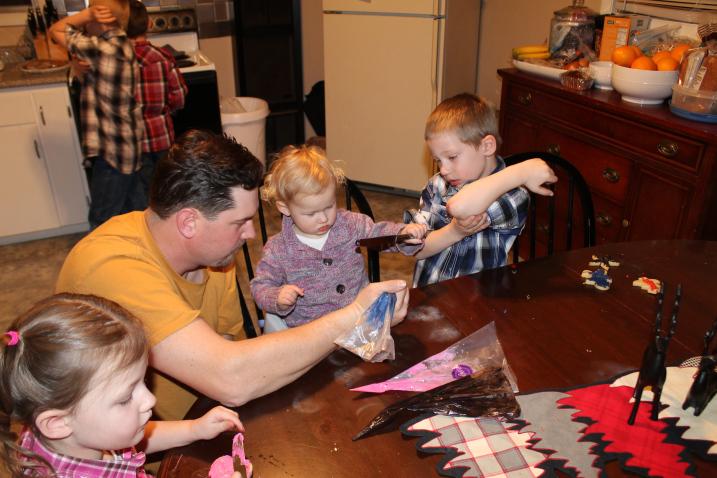 Daddy helped Hope to start her cookies but she soon got the hang of it.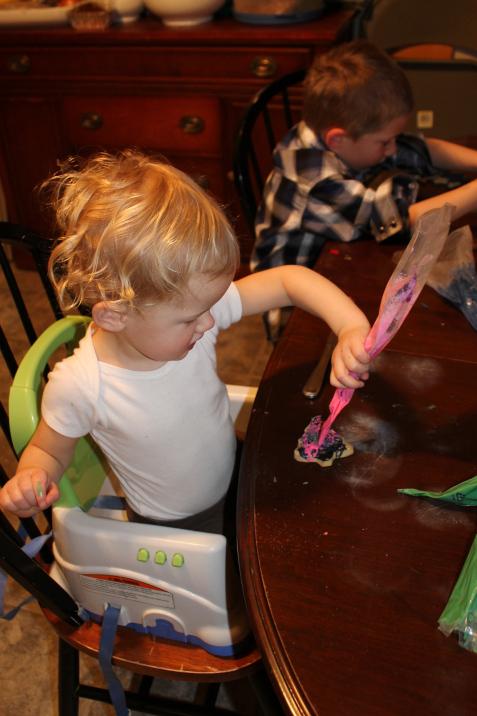 Not sure if she got more chocolate on the cookie or straight to her mouth though.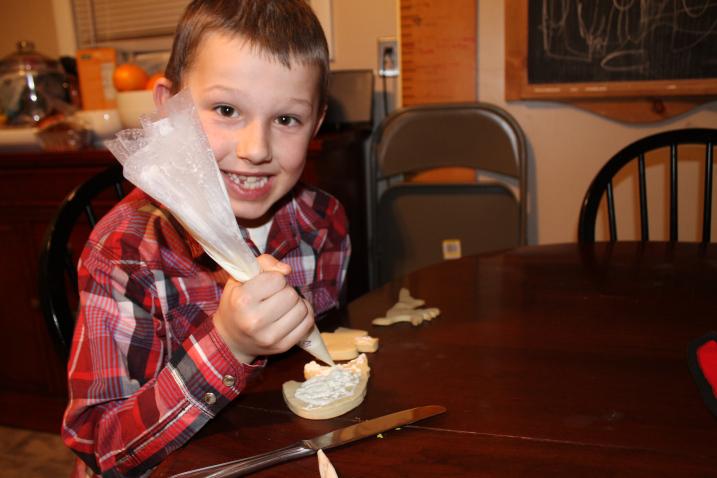 Jonah and Jacob started theirs after the little ones were done.
They really took their time to make sure the cookies were exactly the way they wanted.
It was fun to see them making the cookies because they have obviously watched me make cookies hundreds of times and have picked up some of my techniques.
I think some day I will have some very cute assistants for my bakehouse.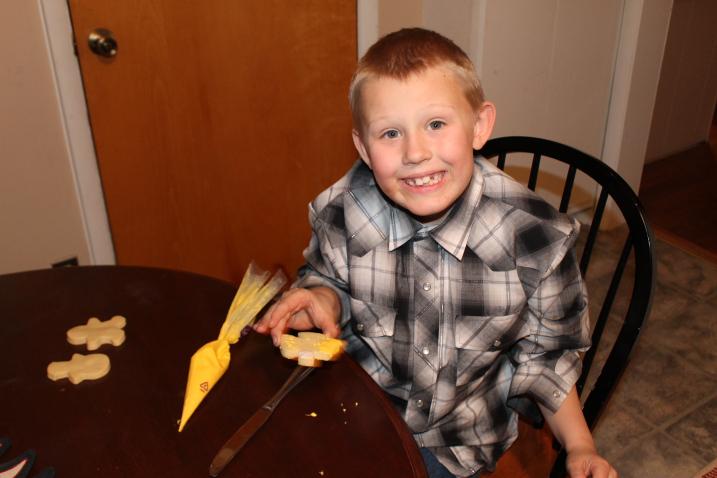 Handsome Jacob working on his angel.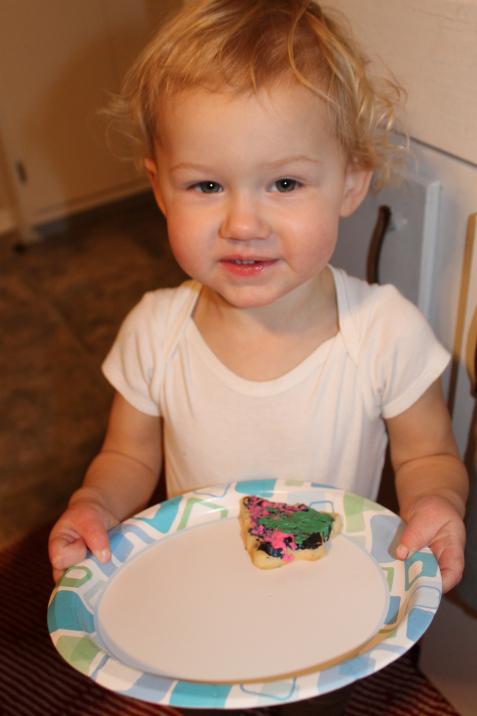 Here are the final products from the kid's hard work.
Hope had her Technicolor tree.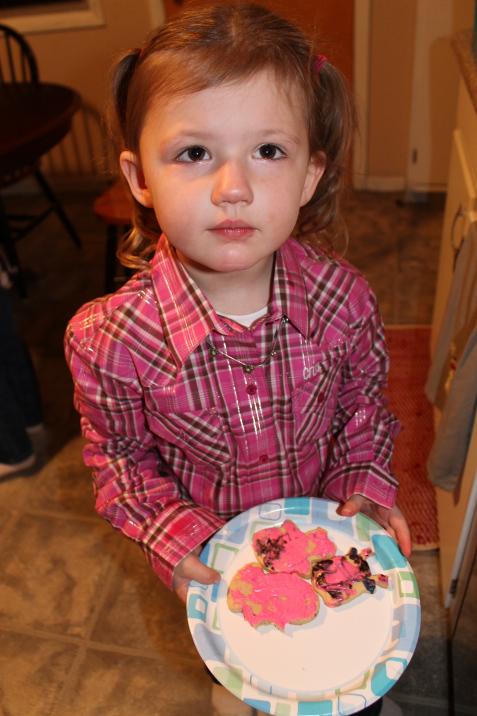 Faith had her pink and purple snowman, reindeer and mitten.
Notice the bite out of the mitten.
She worked up an appetite while decoration.
She looks a bit sad here because moments earlier she had burnt her chin on a hot cookie pan sitting on top of the oven cooling.
She tried to peek over the pan to see what cookies her brothers had made but she was not tall enough and it got her right on the chin.
Poor thing!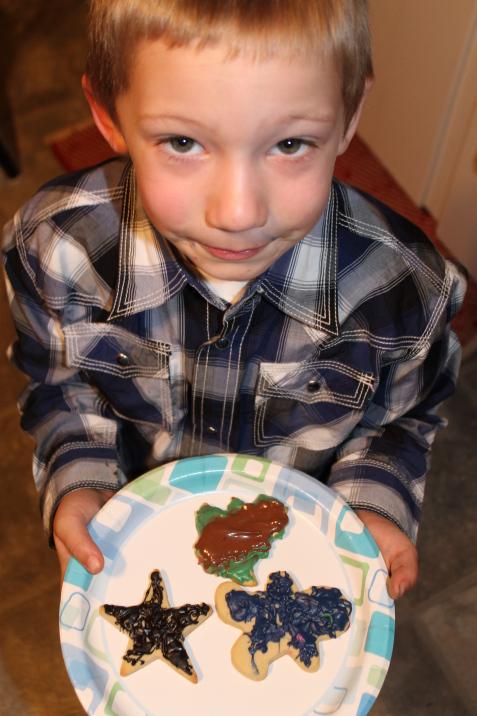 Jude and his gingerbread man, star and Christmas tree.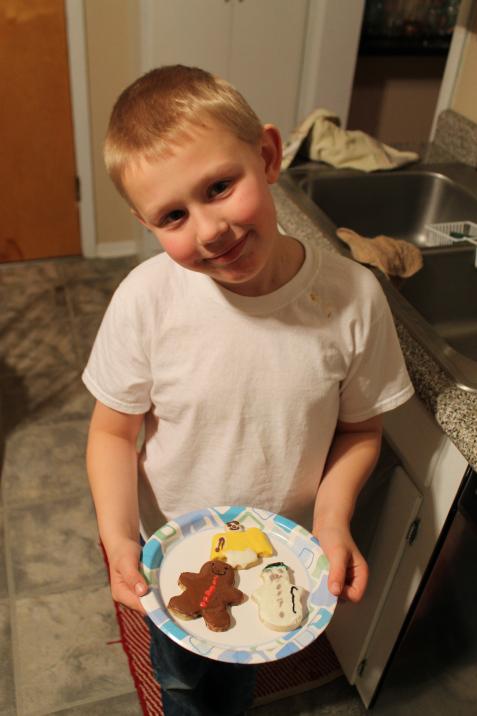 Jacob made a gingerbread man, angel and a snowman.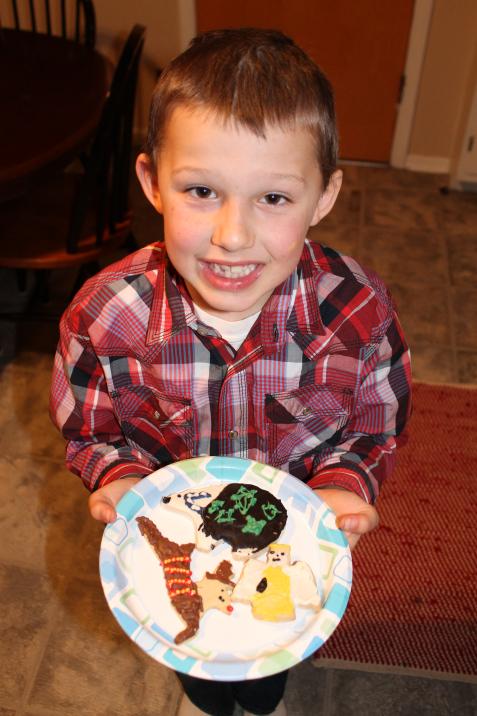 Jonah made an angel, Rudolph and a polar bear with a coat and scarf.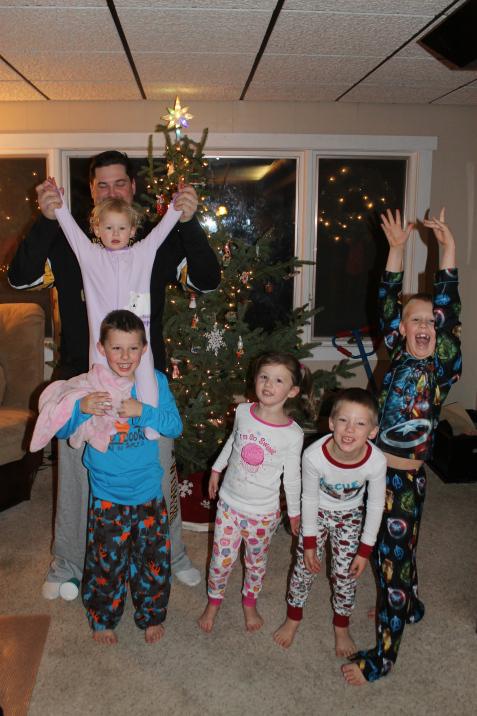 After cookies the kids of course ate a cookie then got to open their Christmas eve present that is always a new pair of pajamas.
Usually I don't have any exciting pictures from pajama opening.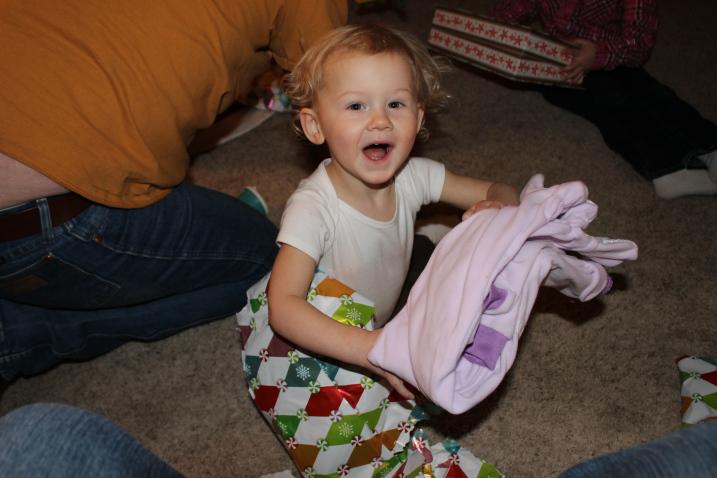 This year was the exception.
Hope really liked her pajamas!
So it was time for the kids to go to bed.
They headed off to rest and Shane and I got to work.
I was busy wrapping and Shane was busy assembling toys.
Once he was done assembling I tossed a toy to him and said "can you wrap this?"
This is what he gave me a few moments later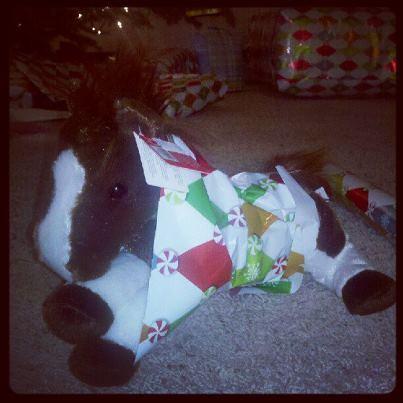 High quality wrapping from my hubby.
All done!
Everything was wrapped and ready to be made a mess of in the morning.
Shane and I headed to bed fully expecting to be awoken early by eager little children.
Well unfortunately I was the first one awake and it was not because I was eager for presents.
I was sick!
Mommy was in the bathroom giving the toilet bowl a lovely Christmas morning hug. UUGHH!
After I fell back asleep Shane and I were woken up by that terrible sound of  sick baby girl.
Shortly after that we had a sick boy.
Needless to say sleep was not going to happen.
Once morning came and everyone was up we still pressed on and enjoyed our Christmas morning.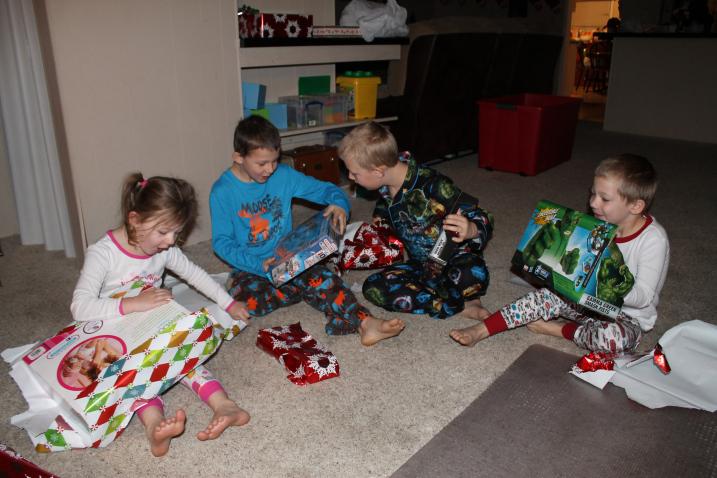 Still many things to be thankful for!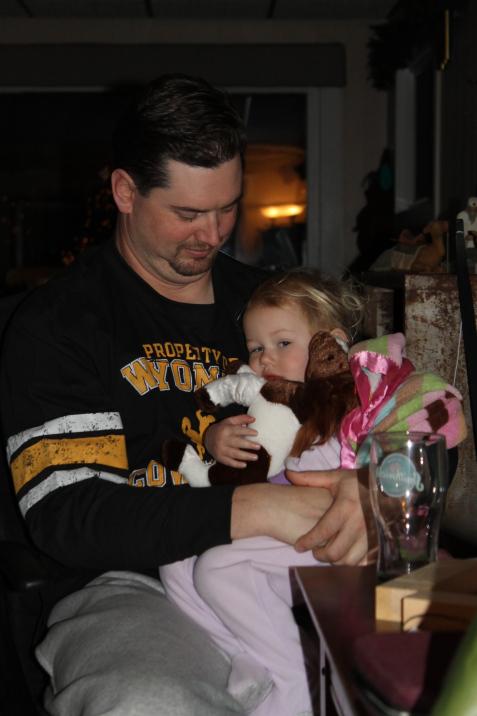 Hope really liked her new horse.
She snuggled right in with it and did not care to open anything else.
But that changed….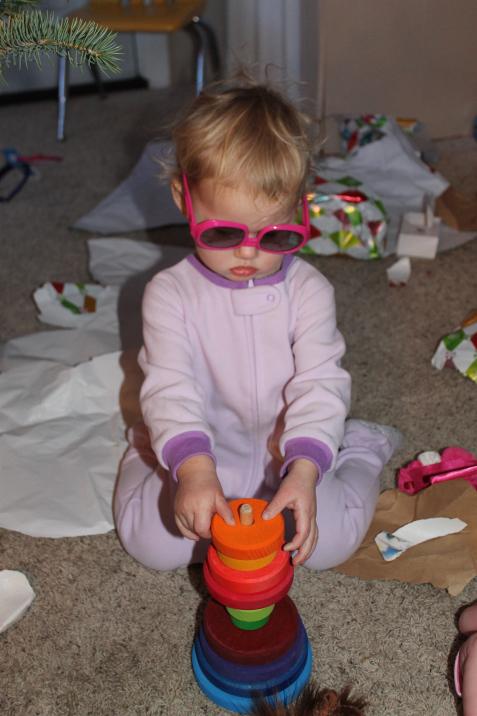 She decided this present thing was pretty cool.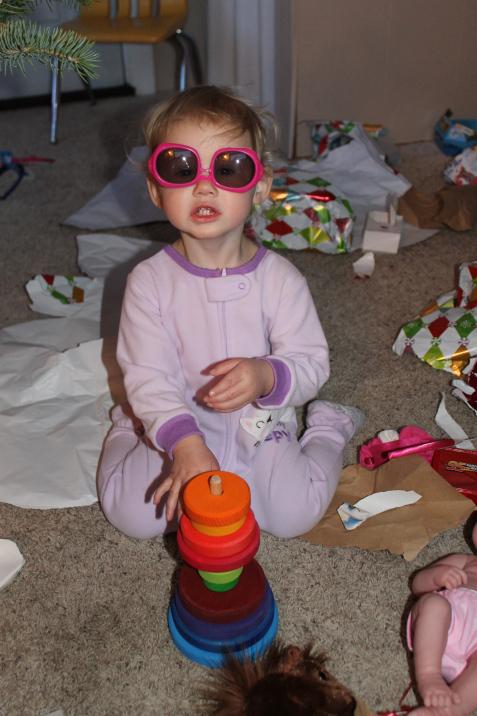 Almost as cool as her.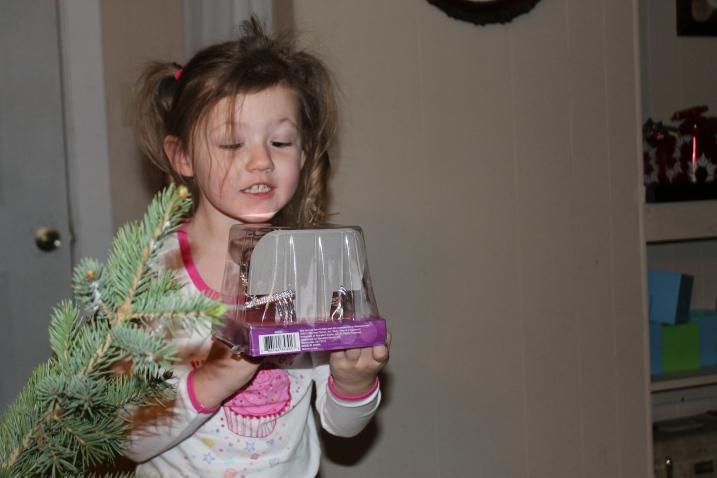 Faith was very excited for her new crown!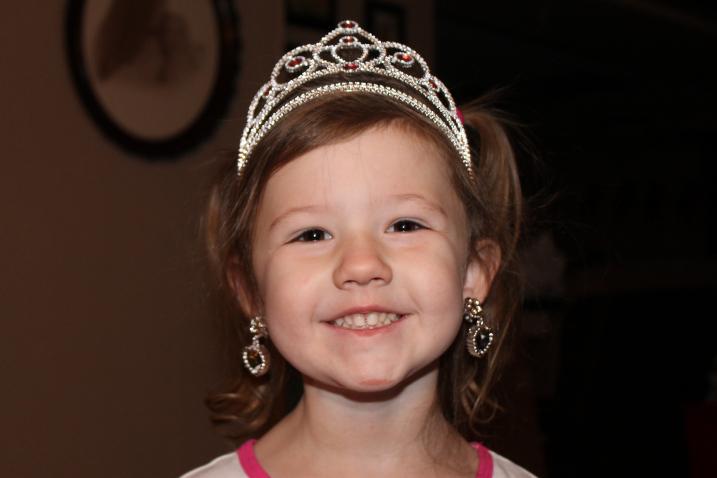 Pretty, pretty princess.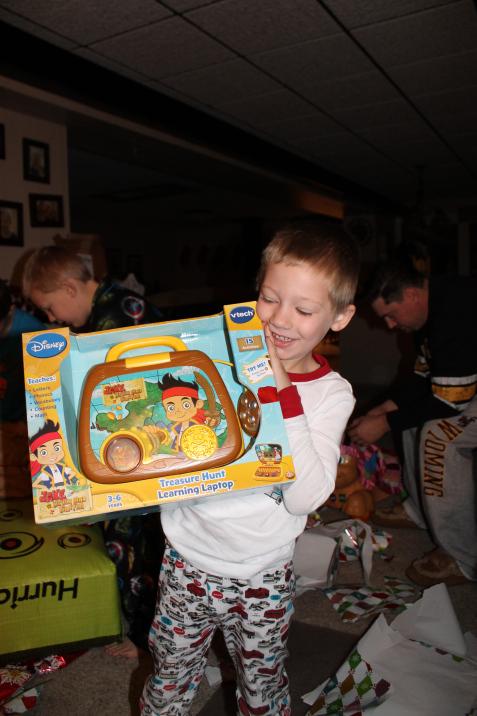 Pretty much all around we had happy kids tearing through their presents.
It is my favorite kind of chaos!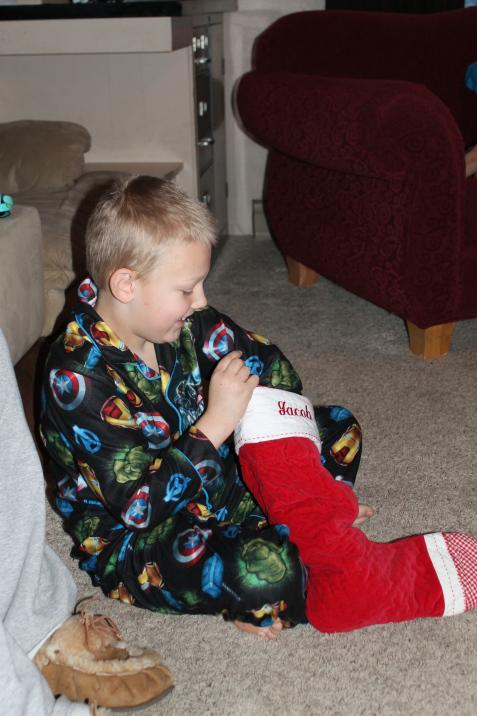 After opening and playing with the new toys we of course had to see what goodies were in the stockings.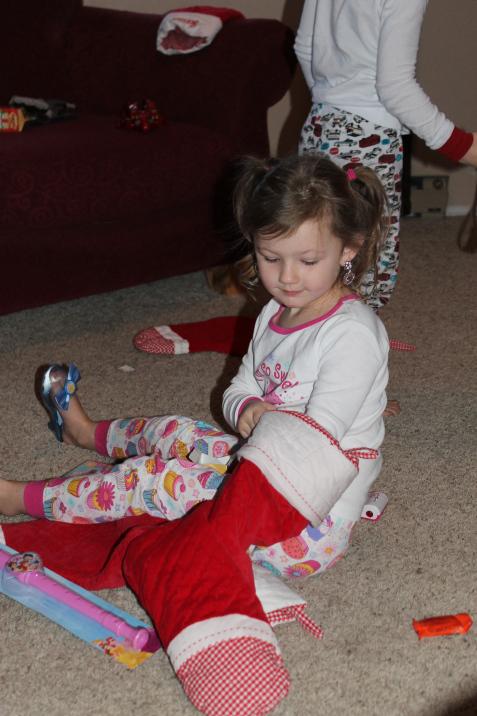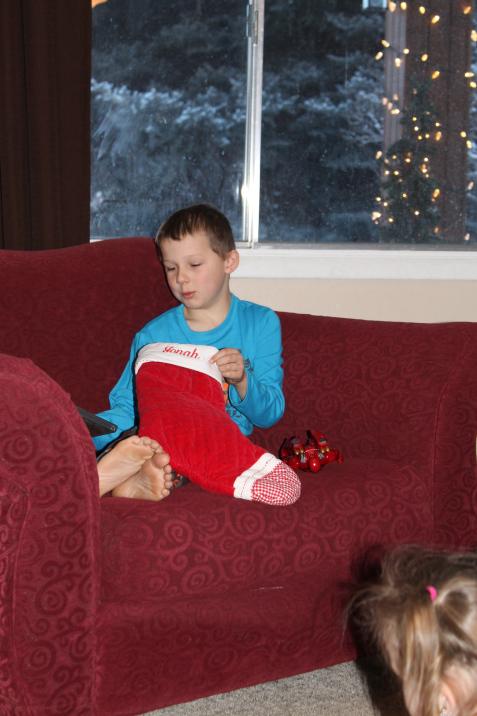 Jonah had to rest on the couch most of the morning so he relaxed while digging through his stocking.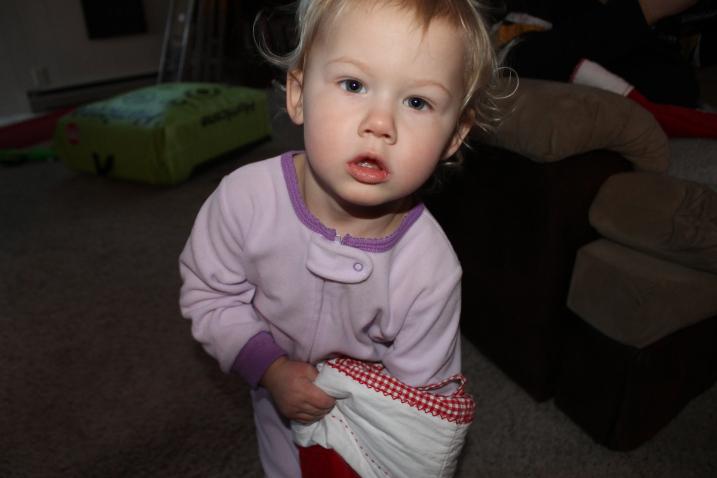 Hope had to work hard to get the goodies at the bottom of the stocking.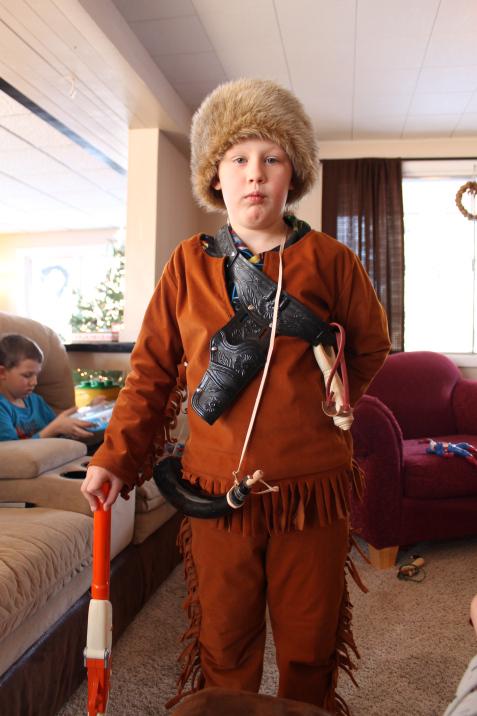 Jacob all decked out in his Davy Crockett costume.
This picture makes me giggle.
He said he could not smile because that is how the old pictures looked.
So despite our little bug running its way through our house we managed to have a nice Christmas morning.
We read the Christmas story from scripture, prayed and enjoyed all the gifts we had gotten for each other.
Then of course we rested a lot.
It was a blessed Christmas once again in our home.
Hope it was the same in yours!
Not to us, O Lord, not to us but to your name be the glory, because of your love and faithfulness. ~Psalm 115:1