I've always likes Zara, but it's not one of those ones that you collect lots of things from - such as H&M. 
It's all statement, sophistication and simplicity. The clothes do the talking and you stick with no-fuss accessories. Zara has a collection of print and plain clothes but neither are boring, they are all powerful and they show that you have confidence in the pieces. I also like that there is not a stupid amount crammed onto the website, meaning it's easier to browse and shop!
So just because I was taking a peek, here's a pick of my current favourite's from their latest online collection: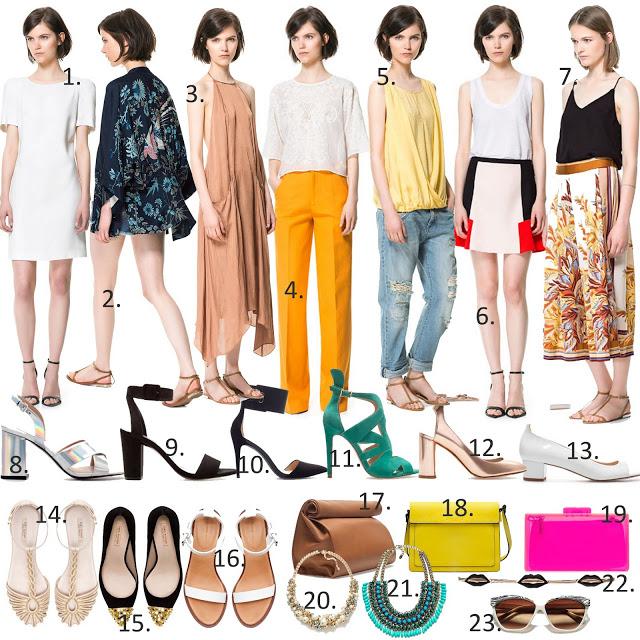 1.

  
White StructuredDress
2.

  
Kimono Jacket
3.

  
Racerback SlouchDress
4.

  
Yellow TailoredTrousers
5.

  
Boyfriend Jeans
6.

  
Colour-Block Skirt
7.

  
Strappy Top and Patterned Trousers
8.

  
Hologram Sandal 
9.

  
Ankle Strap Sandal
10.
Ankle Strap Straight-Toe Shoe
11.
Strappy Turquoise Shoe
12.
Gold Block Heel Shoe
13.
White Block Heel Shoe
14.
Chain Sandal
15.
Spike Toe Court Shoe
16.
White Block Heel Sandal
17.

  
Brown Messenger Bag
18.

  
Yellow Satchel 
19.

  
Pink Neon Box Clutch
20.

  
Pearl Statement Necklace 
21.

  
Turquoise Statement Necklace
22.

  
Lips Metal Belt 
23.

  
White Sunglasses
What's your favourite?