I don't know if this is a pregnancy thing or a cold weather thing, but for the last couple of months, my poor lips have been so dry...no, not dry, chapped beyond belief!
I usually get chapped lips during the winter months, but this has been something else entirely - really sore and tight feeling too, and just not looking very nice.
I love wearing lipstick, but have been leaving it out of my make-up routine recently, because there is nothing worse than lipstick coated dry lips - even the moisturising ones (from MAC and Benefit) haven't been staying put and seem to be making them worse.
So, I have been on the hunt for the perfect chapped lip remedy. I've tried everything from good old Vaseline, to Blistex, Carmex, Lip Butters from LUSH and nothing has really helped. Then a couple of weeks ago, I was going through some piles of stuff (starting to get organised for Titch's arrival) and I found a goodie bag I got at a press day a few months ago. I opened it up and found a sample of Nip + Fab's Lip + Nip Fix. Stating on the tube to be a "multi-purpose balm to heal and repair dry skin, lips and nipples(!)" I decided to give it a go.
You have to give the tube quite a hard squeeze, as the product is quite thick and gloopy, and what came out was a yellowish, transparent balm. I applied a half a pea size amount to my lips, rubbed it in and (heavenly chorus) soothed, smoothed amazing lips, plus the added bonus of a sheer gloss effect! Hallelujah!
What's more, it lasts for ages! I've started putting it on last thing at night and waking up in the morning with product still on my lips and feeling silky smooth. Unfortunately, I only have a small 15ml tube, but I'm going to be stocking up on this little marvel, as it really is the only thing that has helped my poor chapped lips.
Have you tried any Nip+Fab products? What are your chapped lip solutions? Enjoy x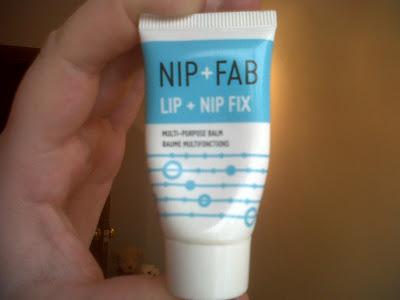 Lip + Nip Fix from Nip + Fab 
The product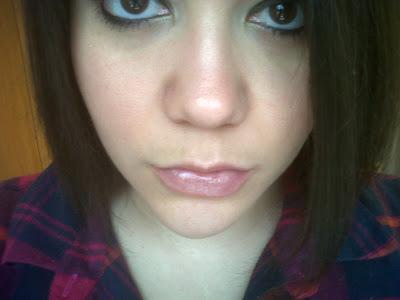 Smooth lips and a touch of sheer gloss