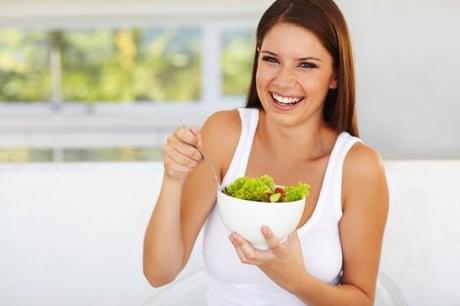 Women who are on the weight loss mission need to certainly think what they put in their mouth. A salad for an entree is a good option but it depends on what ingredients are used in preparing one. Water rich foods can keep you away from over eating when the main course arrives. Salad is a good option for a healthful diet and it also keeps the motto of weight loss in check. It has been seen that people who do not eat salad or soups in the entrée eat 20% extra than the people who eat it.
The ingredients need to be carefully selected when a salad is going to be made for a person who want to lose weight. The ingredients that can be used do not have any limit and needs to be selected prior to the preparations. Fresh fruits and vegetables, eggs, lettuce, tofu, nuts, beans, soy products, grilled chicken or fish, spinach, sprouts, tomatoes, cucumbers or even canned tuna can be included. But if someone is unable to make the salad at home and can only eat them at a nearby food store or restaurant, carefully check what you are eating. A salad that is topped with a cheese cube, you may end up eating lots of calories than losing it. In this case ask for dressings and pick the ingredients that you want.
Fresh fruits like grapes, oranges, fresh berries, melons, apples and pears can be a great option. Cottage cheese can be used to substitute normal cheese for all cheese lovers to keep up the nutrition and taste.  A mouthful of salad can be combined with a bowl of soup and you are done for the day. It not only makes you feel full in a healthy way without adding up those extra calories without making you starve.
Here are a few simple salads that helps you lose weight and you can select the one you like.
Veg Medley – This salad is called the Veg Medley as it has a variety of vegetables and is ideal for all veg lovers. Take a medium bowl with iceberg lettuce. Chop cherry tomatoes, cucumber, shred the purple cabbage and some pea pods. Carrot shavings can also be added along with it. All of these can be mixed together and add some herbs or drizzle it with extra virgin olive oil or honey for a great taste.
Fruit Salad – Salad that is made up of fruits is a dieter's ideal salad as it has all the necessary ingredients and it also satisfies the sweet tooth of the person. Slice or chop strawberries, oranges, blackberries, watermelon, grapes, kiwi, star fruit, pineapple and blueberries. Mix them well and add some almonds or walnuts for that extra crisp taste.
There can be many versions of the above salads. The veg Medley can be made more tasty and healthy by adding a grilled piece of chicken or fish to add that extra protein to it. A good salad substitute for the main course should be prepared properly choosing all the ingredients wisely and carefully to make you lose weight in a healthy way.