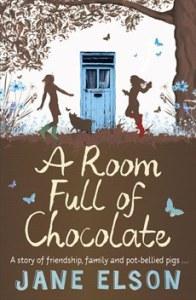 What's it all about?:
Grace's fun loving Mum has found a lump. Her north London world of sleepovers, tap dancing and playing the clarinet fall apart when she is sent to live with her grumpy old granddad on his farm in Yorkshire while her mother goes into hospital to get better.
Grace misses her mother so much it hurts, and doesn't quite understand what is happening to her. And things go from bad to worse when she starts school and becomes the bullies newest target.
But Grace is no longer alone when she meets the wild Megan and her pig, Claude – when she's with them she feels as if she can confront anything. At Easter time when Grace misses her mom the most, she knows she must find a way to get to London. With Megan's help, she hatches a plan to run away that involves Claude, chocolate Easter eggs and a risky ID swap. But it's all worth it if it means that she finally gets to see her mom …
A gorgeous story of courage and friendship that will tug at your heart strings.
What did I think?:
My sister and fellow blogger Chrissi Reads read this book recently and devoured it in a matter of hours so when she recommended it to me I knew I had to read it immediately. I'm so glad I did, this is a beautiful and touching story of a young girl called Grace who is sent to stay with her Grandad on his farm in Yorkshire when her mom finds a lump in her breast and has to undergo treatment for cancer. This doesn't really appeal to Grace as a) she wants to stay with her mother and is worried about what having a "lump" actually means and b) her Grandad is notoriously grumpy and her friends are in London, so staying in a strange place with no other company apart from a quick-tempered relative whom she hardly knows isn't Graces idea of a good time! However Grace does not need to be concerned, as soon as she arrives she is accosted by a young girl in red wellingtons – Megan and her pet pig Claude who follows her round like a little shadow. The three quickly become firm friends (yes, including the pig!) and Grace discovers that Megan is the daughter of her mother's old best friend from when she lived on the farm, which gives her an important link with her mom whom she is fretting about on a daily basis.
So you might think that the story can meander along quite happily, and Grace herself feels quite contented now that she has a new best friend and a pig to play with. Unfortunately this isn't the case. Firstly, Grandad has taken against Meg's "wild" family which he seems to have a long-standing rift with and forbids Grace to have any contact with them. Of course she ignores this but it leads to her having to sneak out at any given opportunity to meet her friend and take her mind off what is happening with her mother. Secondly, Meg is not exactly with the "popular" crowd at the school in Yorkshire, and is looked on as being slightly strange as she struggles to fit in. As Grace is friends with her is is automatically lumped into the same box and is subjected to taunts, threats and abuse by text message daily, which she keeps to herself, bottling it all up inside. To let her feelings out, Grace uses a journal, private to her but certain parts we as the reader are allowed to see. Grace's heart-breaking journal entries with her worries about her mother (did she get the lump dancing?) and her fears about the bullies that are targeting her were wonderful, felt completely authentic and were my favorite parts of the book.  There comes a time when Grace begins to realize how serious her mum's illness actually is and runs away with Meg to London to try and see her with the naughty little Claude in tow of course, oinking at inappropriate moments and causing havoc when released!
I'm not going to spoil the whole book but I have to heartily recommend it as a great example of middle grade fiction that I can imagine school children of this age absolutely loving. It's not just another cancer story, its so much more than that and touches on a wide range of issues that I think its important children should be aware of, like prejudice, bullying, serious illness, and the importance of friendship. I fell in love with the characters almost immediately (especially Claude the pig) and had that nice warm and fuzzy feeling when I eventually finished it, strangely enough like I had devoured a delicious chocolate bar. This is such a special and exciting book, I hope it gets the acclaim it deserves and I could honestly pick it up and read it all over again.
Would I recommend it?:
But of course!
Star rating (out of 5):