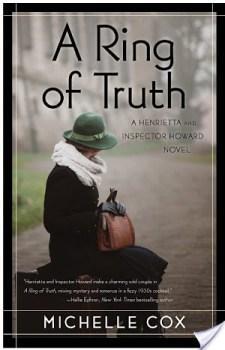 A Ring of Truth by Michelle Cox
Published by She Writes Press on April 4th 2017
Genres: Fiction, Historical, Mystery & Detective
Pages: 320
Format: Paperback
Goodreads

 In this second book of the series, Henrietta and Clive delightfully rewrite Pride and Prejudice—with a hint of mystery!  Newly engaged, Clive and Henrietta now begin the difficult task of meeting each other's family. "Difficult" because Clive has neglected to tell Henrietta that he is in fact the heir to the Howard estate and fortune, and Henrietta has just discovered that her mother has been hiding secrets about her past as well. When Clive brings Henrietta to the family estate to meet his parents, they are less than enthused about his impoverished intended. Left alone in this extravagant new world when Clive returns to the city, Henrietta finds herself more at home with the servants than his family, much to the disapproval of Mrs. Howard—and soon gets caught up in the disappearance of an elderly servant's ring, not realizing that in doing so she has become part of a bigger, darker plot. As Clive and Henrietta attempt to discover the truth in the two very different worlds unraveling around them, they both begin to wonder: Are they meant for each other after all?
As part of the BookSparks April Showers Blog Tour back in the spring of this year, I enjoyed the book, A Girl Like You by Michelle Cox.  Now, flash forward, and Michellle Cox has the second book in this series, the sequel called A Ring of Truth, and St. Martin's Press was kind enough to let me read it!
My thoughts:
Henrietta Von Harmon, age 19, and Chicago detective, Clive Howard, age 36, are newly engaged. The story takes place in the 1930's. The main story deals with the couple meeting each other's families and coming to terms with and accepting their differences. Henrietta visits the family home with the idea of getting used to them and to plan her engagement and wedding. While that part of the story keeps you flipping pages, there's the extra twist about the loss of a ring and the tale in locating it which adds another layer to this story.
I felt that Clive and Henrietta were very well-developed and realistic characters. Their emotional struggles were real and their love is written in a very deep and heartfelt way – not superficial or corny but at the same time pure. In fact, I really appreciated that the author wrote their romance in an honorable way. While they get a little "heated" at times, Clive and Henrietta always remind themselves they want to wait until they are married.
It's hard to actually share this story with you because I don't write spoilers and don't want to ruin anything for those of you who have already read book 1 but not this book. Trust me though, this story will keep your attention from page 1 through the very end and then you'll be bumming out because you'll want even more of the story.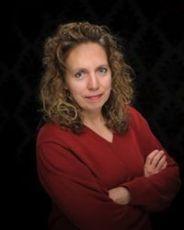 ABOUT THE AUTHOR:
Michelle Cox has a B.A. in English literature from Mundelein College, Chicago. She is a writer of historical fiction but has also been known to dash off a mystery or two. While her heart might lie in the eighteenth century with Elizabeth Bennet and Mr. Darcy or in the crooked streets of Little Dorrit's London, she tends to write of a slightly more recent age, a time closer to the World Wars, when all was not yet lost and the last roses of summer were first coming into bloom.
Ms. Cox lives with her husband and three children in the Chicago suburbs.
I received a complimentary copy of this book from St. Martin's Press in exchange for this post. I was not required to post a positive review, but I chose to do so because I enjoyed the book!  Thanks so much!
~ ~ ~ ~ ~ ~ ~ ~ ~ ~ ~ ~ ~ ~ ~ ~ ~ ~

It would be great if you would stay connected with me!! You can follow me on Twitter @DebiL1611, like me on Facebook at 2014 and Beyond, circle me on Google+, follow me on Tumblr, Instagram and Bloglovin', subscribe on YouTube, or connect with me on LinkedIn and Pinterest.

Please make sure to visit my homepage and subscribe to my blog for more great posts on running, fitness and lifestyle topics as well as food, product, music and book reviews, and more!