I'm not exactly sure when this happened, but at some point over the past six months I have become what is commonly referred to as a royalist. A royalist my friends, is not someone who runs around shouting GOD SAVE THE QUEEN, but merely someone who enjoyed (maybe even cried) the royal wedding, supports the Queen, her corgis and a prodigious amount of bunting.
Seeing that Mr Murdoch and his media empire will no longer be feeding my royalist appetite, I decided to take matters into my own hands and go and say hi the Old Girl myself, out at Windsor Castle.
Windsor Castle is the oldest and largest occupied castle in the world and the Official Residence of Her Majesty The Queen. It covers 13 acres and costs around £40 million to maintain, that's more than £3 million an acre…each year!
Queen Mary's Doll's House
Before I walked into this room I had an image of a flashy dollhouse surrounded by a posse of pink shirt wearing, middle-aged men, with sunglasses set high upon their bald heads. O boy was I wrong. I wanted to play with this dollhouse. And have no doubt in my mind that if they let me, I would still be playing with this dollhouse.
The Dolls' House was a gift to Queen Mary from the people (I think this means the people paid for it with their taxes). It is the most famous in the world and took 1,500 craftsmen, artists and authors three years to complete. It is filled with perfectly to scale (1:12) replicas of everything in Windsor Castle including curtains, china, paintings, light fittings and even tiny little crowned jewels. And if that's not impressive enough, then how about bathrooms that are plumbed with flushing toilets, hot and cold water, electric lighting and mini loo paper.
This Dolls' House makes my regular house look like a joke.

Makes my bedroom human look pretty ordinary
St George's Chapel
Just in case you haven't noticed, the English love a good chapel. They are the religious equivalent of a 7-Eleven but instead of offering cigarettes and red bull, they offer refuge and guidance.
St George's Chapel would have to be one of the most beautiful ecclesiastical ones I have ever seen…including Gaudi's Sagrada Família. The building was started by Edward IV in 1475 and took half a century (sounds more impressive than 50) years to construct.
Over the years, the Chapel has acquired an impressive guest list of ten monarch burial sites including King Henry VIII (with his favourite wife Jane Seymour), Queen Mary, Queen Elizabeth and the Queen Mother. It is also the place where Prince Charles and Camilla received their blessing from The Archbishop of Canterbury in 2005.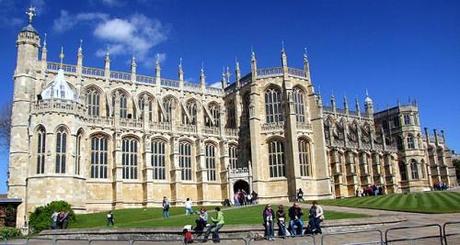 St George's Chapel
The State Apartments
Just as my house-ego was starting to recover I wandered in to the State Apartments. I walked up the justly named Grand Staircase and was greeted by the most impressive display of superbly arranged weaponry I have ever seen (or will ever see) in my life.
As I moved through the rooms I immediately regretted spending all of those hours in people-packed galleries, as here you will see some of the worlds finest works of art hanging just they were intended…on a living room wall. Works include paintings by Rembrandt, Rubens, Canaletto, Van Dyke and Gainsborough.
To help put the size, grandeur and overall awesomeness of this place into perspective, you just need to look at St. George's Hall that is used for State Banquets. The 51-meter oak table seats 160 people, takes 40 footmen two days to lay, measuring every setting precisely and placing every chair 27 inches from the table.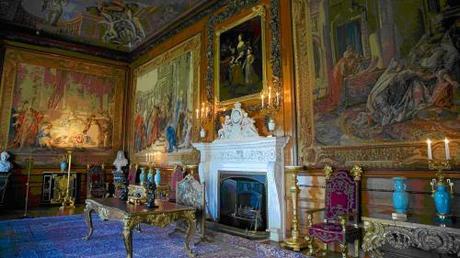 State Apartments
Eton
Windsor may have the Queen, but just across the river sits Eton, which has produced 19 British Prime Ministers, including the current Mr David Cameron. Well, Eton public school has. No pressure sending your sons there…
Apart from an impressive academic transcript, Eton has everything you could ever ask for in an English town. Pubs with great names, cobblestone roads, hanging flower baskets, union jack flags and more bunting I care to imagine.
Do yourself a favour, avoid eating over at Windsor and come across to Eton. The food is nicer, cheaper and away from the hoards of screaming school children.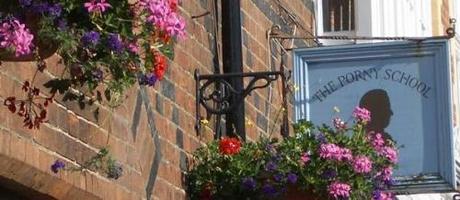 Porny School....for those who did not get into Eton Public
See it for yourself
From London Waterloo catch the Windsor & Eton overground, which will take 50 odd minutes and cost £16.50 return. Tickets to Windsor Castle can be bought at the front gate for £16.50. The audio guide is free and probably the best ones I have used so far.