Hi friends, happy Monday!  I'm currently sitting at home with another snow day, this time, our offices are closed so I don't have to log in today and work while Ashton runs around all day asking me to play with him…a win all around in our house!  I also wanted to thank you for all the awesome ideas for blog posts you left for me, that was just what I needed to get some creative juices flowing!!  I knew you guys would be able to help me out, I appreciate it SO much!
So, I'm sorry I missed you all on Friday, I mentioned last week that I had to take a quick trip to NYC to visit my new creative agency on Friday and I couldn't get the wifi working in flight so I couldn't say hi to you all! I was on the 6am shuttle from Boston which meant I had to leave my house by 3:40 a.m. to get to the airport, park and get through security. I ended up waking up almost an hour before my alarm (this happens almost every time I have to travel) so I was able to get ready at a leisurely pace and I was out the door and on the road on time. At this time of morning, there is almost no one on the roads so I was on the highway and about 30 minutes into my drive, I was in the middle lane and up a ways ahead I saw a car in the break down lane but its lights weren't flashing so I thought it may have been a cop. I moved into the far left lane, not really thinking anything of it. It was super early in the morning and I was listening to a Ted Talk and kind of in a zone.
As I was approaching the car stopped on the side of the road, I noticed a man standing almost in the middle lane waving his hands in the air and yelling something, signaling me to stop my car. I didn't notice him at first because he was wearing very dark clothes and of course, it was pitch black out. I jumped and let out a little scream as the guy knocked a few years off my life. What the hell was someone in their right mind doing standing almost in the middle of a highway? In that instant, I was torn. It was around 4:00 a.m. and there was almost no traffic at all on the Pike. Clearly, I couldn't see what the situation was since I was traveling around 70 mph in the dark, but what if this man was injured? Was there someone in the car? It didn't look like an accident as there were no other cars around. I was alone in my car and knew it wasn't safe for me to stop and offer help. I quickly started to voice dial the MA State Police and let them know about the man and the broken down car. If I couldn't help the guy, at least maybe a trooper could. But the rest of my drive, all I could think about was this man and the situation.
I felt guilty, I mean, what if there was an immediate, serious need and I just drove by him? Could I have even helped if that were the case? What if his cell phone was dead and he (or someone in his car) needed help? What if that were me and the roles were reversed and everyone just kept driving by me and I needed help? Or…what if his intentions were cruel? Did the State troopers get to him and help him? Did I do the right thing?? I asked these and a dozen more to myself over the course of the day.
I think what bothered me the most was the fact that I knew I couldn't stop and help him because it wasn't safe for me. I mean, isn't it sad that we live in a time now that women (or anyone for that matter) doesn't feel safe stopping to try and help another person without worrying about their own safety or the intentions of the other person? I hate to question the intentions of others, but you hear so many terrible stories these days that you can never be certain about someone's motives. I really wanted to help this guy out, I supposed I at least took some sort of action that could have helped him I the long run, I guess I'll never know.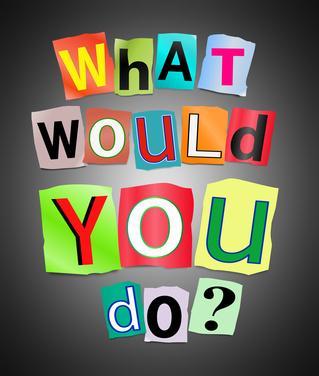 For those of you home today because of the weather, stay warm and enjoy the extra long weekend!  I'll see you on Wednesday!
—————————————————————
Question of the day
Have you ever been put in a similar situation where you wanted to help but you couldn't in the way you wanted to?
What would you have done in this situation?