by Tony Davis / Arizona Star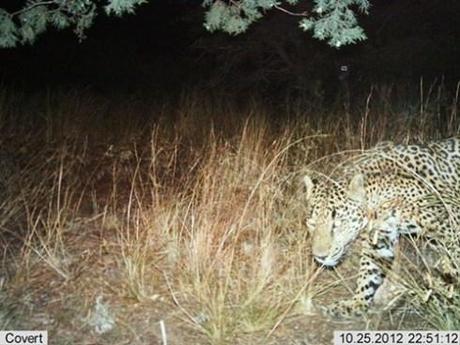 Automatic wildlife cameras snapped this photo of a male jaguar on a nightly walk in the Santa Rita Mountains on Oct 25, 2012 near Tucson, Arizona
"You don't know how frustrated I am," says Alan Rabinowitz, the world-renowned jaguar biologist and protector who opposes U.S. government designation of jaguar critical habitat in Southern Arizona. "I don't like being on side of people fighting wildllands and wild spaces.
"But the worst thing is when the other side says environmentalists will do anything to get what they want. If I don't go by the science of this issue, that is lending credence to this argument. This is what the data shows, that this is not critical habitat."
But Rabinowitz's critics in the environmental community say that designating at least 838,000 acres of Southern Arizona as jaguar critical habitat fits the best science, and with the Endangered Species Act's definition of species recovery. In addition, Earth First! maintains that Rabinowitz is tainted by the fact that a mining company executive, Thomas Kaplan, is Panthera's board chairman and helped found the group in 2006. Panthera's web page describes Kaplan as "a passionate environmentalist and supporter of wildlife conservation."
Rabinowitz, CEO of the big cat conservation group Panthera, has spent much of his career fighting to protect a corridor for jaguars from South America into Mexico, and to create a jaguar preserve in Belize, in Central America. He hinges much of his argument against critical habitat in Arizona on his view that Arizona doesn't have a resident jaguar population anymore.
He says that if the few jaguars seen here since the 1970s were to be the last ones ever seen, it wouldn't have a big effect on the species as a whole.
He doesn't doubt that Arizona at one time had a resident jaguar population, about a century ago. He also agrees with critical habitat supporters that it's possible that this state could someday host a resident jaguar population, although he adds that it will probably take reintroducing of the large cats to bring that about.
But because there's no evidence jaguars breed today in Southern Arizona, he sees a jaguar population here on its last legs: "a non-functioning population, dying out." He dismisses the idea that Kaplan's mining background shapes his views, saying, "There's not a conservation organization out there where you couldn't find one of your donors to attack you with."
Earth First! acknowledges that Rabinowitz has held similar views since the late 1990s, long before connecting with Kaplan at Panthera. But in a recent article in the Earth First! Journal, an organization calling itself the Jaguar Team said, "We just don't trust an organization run by a guy that runs a copper mining company and used to own an oil company and is a Wall Street entrepreneur, at least not enough to let him tell us that jaguars don't belong in the Southwest."
To Michael Robinson, a conservation advocate for the Center for Biological Diversity, Rabinowitz's views aren't consistent with the Endangered Species Act.
"Critical habitat is habitat necessary for conservation of a species," Robinson said. "Conservation is defined as all methods needed to bring them to the point where listing is no longer needed, where they don't have to be on the endangered species list. The species act has nothing to do with resident populations."
Sergio Avila, a biologist for Sky Island Alliance, observed, "Jaguars live in the region, today. They are breeding maybe 50 miles south of here, maybe 100 miles south of here. They don't care if they are in Sonora or Arizona. What's important is that they belong in the region, this is the northern jaguar's habitat and they prove it with each and every new documentation."
The Star talked with Rabinowitz by phone from his home lying amidst occasional black bears and bobcats and "tons of turkeys" on a mountaintop on 25 acres, lying 60 miles north of New York City, where Panthera is based.
Q. A century ago, jaguar kittens lived in the Grand Canyon area, suggesting historic breeding. Could there be a resident Arizona jaguar population again?
A. The data points to the fact that there clearly was at one point in time — I don't know when that time stopped — clearly in the 1800s, there was enough data to suggest at one time that there must have been a resident population of jaguars.
It might have been small. There probably was a low-density breeding population. We can't go back and look. It's almost like studying fossils. We don't know if it's the last vestige of the population holding on, but there were females breeding. . . .
We still don't have enough data to understand why they haven't resettled back in that area. One possibility is that it's become such marginal habitat that they didn't want to resettle. It also could be that they were killed trying to come back in that area. Is there potential habitat? Yes. Is there a potential for jaguars to re-establish themselves. I do think so.
But . . . it will be a tough, tough fight to get them back into the U.S. They probably will have to be reintroduced. None of that has to do with whether that is critical habitat there.
Q. But if there were jaguars breeding here a century ago, and if there is a potential for them to come back, why shouldn't some of this area be critical habitat?
A. The legal definition of critical habitat is that it is critical for the species, or a specific population of the species, or a subspecies. Right now, the habitat in the U.S. is clearly not critical for the survival of the species as a whole.
In the old days, before we did genetic analyses, some thought that the population in the U.S. could have been a different race of jaguars. Then, there would be a lot more credibility in saying we need to protect that, because you don't want to lose genetic diversity. But what we found out wihth new genetic tools . . . there's nothing out there to rise to any racial variation of the jaguar."
Q. Prof. Paul Beier, a Northern Arizona University wildlife ecologist who like you was a peer reviewer for the wildlife service on critical habitat, said one reason to designate it is to make sure the habitat here is protected if climate change brings more jaguars north from Mexico.
A. That statement isn't suported by data . . . There is a lot of this in science — if climate change is happening the way we think it is, at this point in time, based on just what we know, the habitat here has just as much chance of not being critical, not in any quantitative way. There's no data to support either argument. Either way, it's speculation. Even if it's valid speculation, it still doesn't fit the terms of critical habitat. Then, we're talking about potential future critical habitat.
Q. Are you writing off jaguars in this country because there are plenty in Mexico? That's what a lot of people said developers were doing here back a decade ago when they got the endangered pygmy owl delisted on the grounds that there's plenty in Mexico.
A. I'm not writing the jaguars off. If you have a resident bird population, if you are taking out a portion of a resident population, which they did here with the owl, you may very well be taking out a crucial chunk of the species' genome. . . But this is what makes this one so tough. It's not as clear as the pygmy owl one. Then, you had resident animals to deal with and we're not dealing with a resident jaguar population in the U.S. If I was in the debate over the pygmy owl, I'd be on the other side.
Q. In your peer review comments on jaguar habitat, you said it saddens you that an animal "I desperately want to save, and for which conservation funding is very difficult to find, is now being used for personal agendas of other organizations to protect areas of the United States where no jaguar population has been known to exist for over half a century."
Your critics here worry that you're fighting critical habitat here to avoid having resources transferred from your work to Arizona.
A. First of all, we get no federal funds, and the funds we get in countries like Belize and other countries, we can't get Fish and Wildlife Service funds for that anyway. Those funds are not even transferable. The habitat issue has nothing to do with me wanting money for my work.
Our work is not in Belize, not Costa Rica and not Panama. Our work is the entire jaguar corridor. If there was a good reason to be spending money in the United States and creating a jaguar range, we'd be putting our own resources into it. This is a non-argument that has nothing to do with my position.