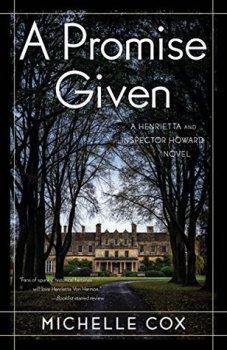 A Promise Given by Michelle Cox
Published by She Writes Press on April 24, 2018
Genres: Historical, Literature & Fiction, Mystery
Pages: 384
Format: Paperback
Goodreads
Buy on Amazon



A delightful romp through the English countryside and back.Anxious to be married, Henrietta and Clive push forward with their wedding plans despite their family differences, made worse now by Oldrich Exley's attempts to control the Von Harmons. When the long-awaited wedding day arrives, there is more unfolding than just Clive and Henrietta's vows of love. Stanley and Elsie's relationship is sorely tested by the presence of the dashing Lieutenant Harrison Barnes-Smith and by Henrietta's friend Rose—a situation that grows increasingly dark and confused as time goes on. As Clive and Henrietta begin their honeymoon at Castle Linley, the Howards' ancestral estate in England, they encounter a whole new host of characters, including the eccentric Lord and Lady Linley and Clive's mysterious cousin, Wallace. When a man is murdered in the village on the night of a house party at the Castle, Wallace comes under suspicion—and Clive and Henrietta are reluctantly drawn into the case, despite Clive's anxiety at involving his new bride and Henrietta's distracting news from home. Delicately attempting to work together for the first time, Clive and Henrietta set out to prove Wallace's innocence, uncovering as they do so some rather shocking truths that will shake the Linley name and estate forever.
Back in April of 2016, I was included in the BookSparks' April Showers Blog Tour that included the first book in the Henrietta and Inspector Howard series, A Girl Like You by Michelle Cox (see review HERE).  Then, in July of 2017, I participated in another BookSparks Blog Tour for the second book in this series, A Ring of Truth (see review HERE).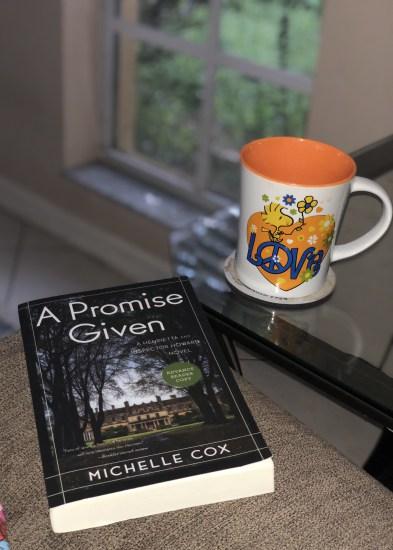 In this third book in the Henrietta and Inspector Howard series, A Promise Given by Michelle Cox, we are caught up in a book full of mystery and intrigue. To be honest, at first I felt that this novel was more like some sort of family saga mixed with romance and I wasn't feeling the mystery vibe, but by book's end, M. Cox did a very good job of effectively adding the element of mystery.  While it is the third book in a series, A Promise Given can be read as a stand alone, though readers will benefit from reading the first two books.
The majority of this book shares with readers all of the preparation work for the wedding of Clive and Henrietta and the ultimately, their wedding. The author also provides readers with the details of how Henrietta's family and her sister's relationships are made up. 
Then, while Henrietta and Clive are on their honeymoon in England visiting and staying at the family's country estate, there's a murder.  The suspect in this local town murder is Clive's cousin, Wallace.  For his cousin's sake, Clive puts himself right in the middle of the investigation, and Henrietta provides her assistance as well despite the distracting news she receives from home.
I felt that the story was very fast-paced and the writing was so descriptive that I almost felt transported back to the 1930's through this story. While Henrietta was definitely a woman of the times and not some modern woman stuck in the 30's, she remained a relatable character.  As you read this story, just when you are certain you know which way this is headed, the author threw in another ringer
---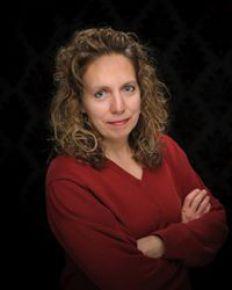 Michelle Cox is the author of the multiple award-winning Henrietta and Inspector Howard series as well as "Novel Notes of Local Lore," a weekly blog dedicated to Chicago's forgotten residents.  She suspects she may have once lived in the 1930s and, having yet to discover a handy time machine lying around, has resorted to writing about the era as a way of getting herself back there. 
Coincidentally, her books have been praised by Kirkus, Library Journal, Publishers Weekly, Booklist and many others, so she might be on to something.  Unbeknownst to most, Michelle hoards board games she doesn't have time to play and is, not surprisingly, addicted to period dramas and big band music.  Also marmalade.
WEBSITE //  FACEBOOK  //  TWITTER  //  INSTAGRAM
---
Thanks to BookSparks for the advance reader's copy of this book in exchange for my honest review.  I was not required to write a positive review, but chose to because I enjoyed the book. 

~ ~ ~ ~ ~ ~ ~ ~ ~ ~ ~ ~ ~ ~ ~ ~ ~ ~

It would be great if you would stay connected with me!! You can follow me on Twitter @DebiL1611, like me on Facebook at 2014 and Beyond, circle me on Google+, follow me on Tumblr, Instagram and Bloglovin', subscribe on YouTube, or connect with me on LinkedIn and Pinterest.

Please make sure to visit my homepage and subscribe to my blog for more great posts on running, fitness and lifestyle topics as well as food, product, music and book reviews, and more!